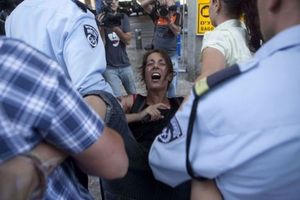 Officials at Israel's main airport on Friday refused entry to 69 people they said were pro-Palestinian activists, and said most would be repatriated on the first available flights.
Immigration spokeswoman Sabine Hadad said that four people had already flown out of Ben Gurion Airport near Tel Aviv, and the remainder were in custody waiting to travel.
"They are from Spain, the Netherlands, many from France, Bulgaria, the United States, Germany," she told AFP. "Legally they have been refused entry, they are not in Israel."
Shortly after 9:00 pm (1800 GMT) prisons service spokeswoman Sivan Weizman told AFP that 34 of the 69 had been moved to a nearby prison pending deportation and the rest were still at the airport.
Hadad said that during Friday 310 people were questioned on suspicion of taking part in the "Welcome to Palestine" campaign, which some have called the "flytilla," in which up to 800 activists were to fly in on a peaceful mission to visit Palestinian families.
"Sixty-nine were refused entry, all the rest entered," Hadad said.
But Israeli authorities said they largely managed to pre-empt the campaign by foreign activists -- most from France -- who are demonstrating for the right of access to the West Bank.
Officials said that by notifying foreign airlines of ticket-holders who would not be admitted to Israel they had prevented hundreds from boarding at their ports of departure.
A statement from the public security ministry quoted regional police chief Benzi Sau as saying a joint operation by police, the foreign ministry and transport officials "prevented the departure of hundreds of activists at their points of departure for Israel."
It added: "Public Security Minister (Yitzhak) Aharonovitch instructed that... forces continue to deploy so as to be able to deal with incoming flights this afternoon, including the prevention of disturbances, while exercising the necessary sensitivity."
Hadad earlier told AFP: "Israel has given airlines a list of 342 unwanted people, warning them that they will be immediately turned back at the expense of the companies."
Following the warning, "the companies have already refused to take on board around 200 of these passengers," she said, adding that two US activists who arrived were sent back to the United States.
Police spokesman Micky Rosenfeld said six Israelis had been arrested in the arrivals hall at Ben Gurion, which is open to the public.
"Six left-wing activists were arrested at the airport after causing a disturbance in the terminal," he told AFP. "They arrived from inside Israel; they didn't come off the planes."
Some 50 airline passengers describing themselves as "pro-Palestinian" were prevented from boarding a flight to Israel from Geneva airport on Friday, officials said, prompting flight delays.
Several people belonging to a French group of pro-Palestinians had tried to get past airport security doors, resulting in authorities temporarily shutting down boarding areas.
Several dozen meanwhile protested at Roissy airport in France after being refused check-in because their names featured on the Israeli list.
About 50 activists bound for Tel Aviv via Frankfurt occupied a Lufthansa counter at the airport while others demonstrated after being turned away from their Alitalia flight to the city via Rome.
Campaigner Olivia Zemor said several airlines had not yet reimbursed their fares.
At least nine activists were prevented from boarding a Malev flight to Tel Aviv via Budapest on Thursday.
Austrian Airlines said on Friday it had prevented a passenger at Vienna airport from boarding a flight to Tel Aviv, following a request by the Israeli authorities.
In a statement, the organisers of the "flytilla" campaign condemned the Israeli pressure on airlines and threatened legal action.
"We call on all airline companies not to accept such provocative, blackmailing and illegal actions by the Israeli government," it said.
"Visitors travelling between countries have rights under international law and bilateral travel agreements," it added.
"Those who had reservations cancelled will exercise their right of protest including bringing legal cases in their own countries."