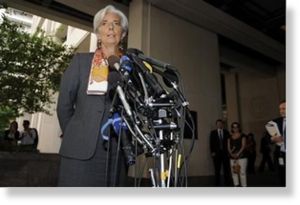 French Finance Minister Christine Lagarde is expected to be chosen as early as Tuesday to be the new leader of the International Monetary Fund, The Associated Press reported.
Lagarde would be the first woman to lead the organization, replacing the disgraced Dominique Strauss-Kahn, who resigned in May after being charged with sexually assaulting a New York City hotel housekeeper. Lagarde's opponent was Agustin Carstens, a Mexican central banker whose candidacy never caught fire.
Lagarde has widespread support in Europe, and a high-ranking Chinese official said Monday that Beijing supports Lagard, according to several reports.
U.S. officials haven't publicly backed a candidate, though most analysts expect the Obama administration to come out in support of Lagarde.
Together, the United States, Europ, and China hold the majority of votes on the IMF's board.