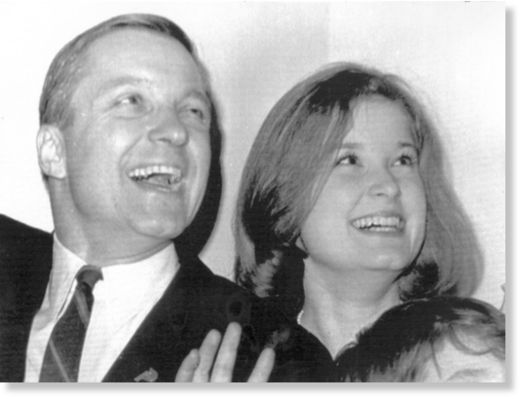 Doctor's written report sheds some light, raises some questions.
Nydia Hohf sleeps in the same bedroom where she awoke to a siren sounding from her neighbor's house almost 45 years ago. She walks on her lawn overlooking the expanse of Lake Michigan she surveyed then. She gazes down at the crashing waves she thought were so beautiful that morning.
And still, she wonders what happened that day, on what her husband called that "cloudy, dismal morning."
All this time, Hohf kept in a file cabinet - and in the back of her mind - - a detailed account of a notorious North Shore murder scene.
The document, written by her late husband - the doctor who first examined the victim - describes the aftermath of the brutal attack on Valerie Percy, the 21-year-old daughter of then-Senate candidate Charles Percy.
Valerie Percy was killed in her bed on Sept. 18, 1966, in her family's estate on Lake Michigan in Kenilworth, two doors away from the Hohfs. The crime made national news but was never solved.
The newly revealed account, police say, does not significantly change the evidence in the case, but provides details never before publicized, shedding light on those involved just after the slaying.
The Hohfs had never shown it to police because they felt the detectives weren't interested. But after a reporter contacted Nydia Hohf this year, she disclosed the document's existence and agreed to share it with investigators.
Hohf, whose husband, Robert, died in 1993, says this is her attempt to finally lay to rest the terrible riddle that has plagued her and her neighbors since the tragedy took place.
"The mystery of it all was kind of upsetting," she said. "The Earth had shaken us up a little bit. I think maybe Kenilworth felt that way in general - a terrible murder in this community?"
Never interviewed
Immediately after the crime, Robert Hohf, a surgeon at Evanston Hospital, put double locks on the doors and burglar bars on the door window. The family briefly considered moving.
Despite the tragedy, they remained in Kenilworth, a neighborhood of mansions between Wilmette and Winnetka that has long been one of the wealthiest and safest communities in the state. Valerie Percy's slaying was the first homicide in its history.
Shortly after the attack, Percy had called Dr. Hohf to the house to attend to his daughter, a recent Cornell University graduate who was home working on her father's campaign.
Newspaper stories suggested Hohf was the first outsider on the scene, but his written account reveals that was hardly the case.
Chicago police, Cook County state's attorney investigators and the FBI would work on the case. Investigators said they interviewed about 10,000 people and investigated 1,226 suspects in the first two years.
But they apparently never interviewed Hohf, for reasons that aren't clear. That bothered the doctor, his wife said, noting that he also wasn't called to the inquest into the death.
Three days after the slaying, Hohf wrote his detailed account of all he saw and heard that morning. Over the following weeks, he shared and discussed it with friends, but, feeling that investigators had ignored him, he eventually filed it away in a cabinet, where it remained even after his death.
Neatly written by pencil in cursive, Hohf tells his story as a doctor might write a clinical report, making careful observations with just the barest of hints at what was going through his mind.
The account begins with the couple awakened about 5 a.m. by a roof-top burglar alarm at the Percy house. Nydia walked outside on their lake-side lawn for a clear view of the Percy house.
The house in between had flood lights on, and Nydia later said she would have seen if someone had escaped that way - but she saw nothing. After two or three minutes she returned to the bedroom, where her husband was still in bed. She remarked that the white caps rolling in on the lake were "beautiful."
The siren went quiet, and then sounded again for a couple of minutes, and Dr. Hohf dozed for a minute or two before being awakened by a phone call from Percy.
"A slow deliberate voice said, 'Bob, this is Chuck Percy. Will you, please, come right over, Valerie's been injured,'" Hohf wrote. "'We've already called someone else but would like you to come right away. A policeman is on his way to get you.'"
Hohf pulled on his trousers while a police officer rang the doorbell. He went to get his doctor's bag from the garage, but the officer said he didn't think it was necessary.
'Numb but composed'
Running across the Percys' front lawn and then inside, Hohf wrote, he "dashed" upstairs and, stepping into Valerie's bedroom, "I saw immediately the figure of a badly battered girl, obviously dead. ... 'Oh no she's dead!'"
She wasn't breathing, had no pulse, and her eyes showed no signs of life.
She was so disfigured that Hohf wrote that he didn't recognize her. Her nightgown was raised to her ribs.
"I told the officers, 'She's gone,' and they warned me not to disturb anything further. My job was done for them."
Hohf found the two surviving sisters, Sharon and Gail, "badly frightened," sitting on their parents' bed facing the lake. He went downstairs and spoke to the parents, "Chuck" and "Lon," or Loraine, who was Valerie's stepmother.
"I told them, 'I'm awfully sorry, but she's gone.' They looked numb but composed and said nothing that I recall."
Loraine was barefoot in a short nightgown, but Chuck was fully dressed in slacks, shirt, a sweater and shoes.
They walked into the family room, and Hohf was introduced to a couple of friends who had been called to be with the surviving children.
The houseman served coffee, as Chuck had requested, and Hohf wrote, "I had a feeling that much had happened before I arrived."
Percy spoke to Kenilworth police about the need to act quickly since it was only 15 or 20 minutes since his wife saw an intruder flee. At that point, he called Chicago police.
Loraine told Hohf her account of what happened. She had been awakened that night by moans, she said, and followed them to Valerie's room, where she saw a figure leaning over Valerie.
"A flashlight beam immediate(ly) was thrown into her eyes," Hohf wrote, "blinding her so that she was conscious of only a vague form and movement. She ran back into her own room and screamed at Chuck that there was an intruder in Val's room. While she turned on lights and the fire siren, Chuck called the tel. operator and asked her to call the Kenilworth police. ... They arrived in five minutes. (Loraine) thought she heard the person bounding down the stairs. When she returned to Val's (room), Val was still moaning and looked very white. Lon wiped her face with a pillow and felt a pulse which disappeared after a few seconds."
Loraine told her story "calmly but in somewhat disjointed fashion," with speculation that household workers might be responsible.
"There was confusion about Chuck's activity after he called the police. ... Nothing was said about Chuck going into the room. ..." Hohf wrote. "They must have known she was dead before calling me."
Yearning for justice
Much has been written about the case in the press, including suggestions that the crime was committed by a career burglar, Frank Hohimer. Hohimer denied it and fingered another career criminal, Fred Malchow, who was dead. But that theory never led anywhere.
But if the crime began as a burglary, it didn't end that way - nothing was known to be taken from the home.
Shortly after the slaying, Percy was elected senator, and the family moved to Washington and sold the house.
Percy remained a senator until 1985. Now 91 with Alzheimer's disease, he and his wife live in an assisted living home in Washington.
Their former 17-room house on the estate known as Windward was demolished last year to make way for a new home.
Valerie's twin sister, Sharon Percy Rockefeller, said the Hohf account confirmed what she already knew, but roused memories of that shattering morning when she sat "freezing and shaking" on her parents' bed.
"What I'll never forget is the shock of the moment," she said. "The whole thing was so utterly baffling and mysterious and unthinkable. Being stunned in that way did not leave for years, maybe a decade. It's not like you get used to the thought of it - it's just shocked over and over again."
Over time, Sharon Percy married Sen. Jay Rockefeller of West Virginia. Since 1989, she's been president and CEO of WETA public television and radio in Washington.
"In lots of ways, I wouldn't assume we moved on," she said of the Percy family. "Everyone has fully lived their own lives, but this was the seminal event, and we were all old enough to remember and care deeply and realize her life was taken from her. And we still would like whoever's responsible to be brought to justice."
About 15 years after the killing, she hired a law firm to look into the case. The attorneys put together "a plausible case," she said, but she would not share the results. She has reinstated a $100,000 reward for information leading to the arrest and conviction of the killer.
Sgt. Dave Miller of the Kenilworth police is now in charge of the investigation. He said it remains an open case, and the department pursues new leads every year.
The Hohf report is valuable as a witness account from that time, Miller concluded, but does not differ substantially from the original police reports and timeline of events. Miller did not place much significance on the Percys' calm demeanor, the summoning of others to the house or the doctor's impression that "much had happened before I arrived."
Hohf also noted a key piece of evidence: The glass of the French door, through which the intruder presumably entered, had a ragged break. This differed from impressions in some press accounts that a burglar had cut the glass cleanly.
Miller explained that someone had first cut the glass, but the hole was too small to reach through, and the person scored the glass with an "X" and smashed it - a curious approach for a professional burglar.
In a recent interview, Robert Lamb, a now-retired Illinois State Police investigator who took over the investigation shortly after the crime, disclosed a startling detail:
That same method was used to break into a nearby house the summer before Valerie's slaying. He concluded that career burglar Malchow committed the crime but allowed that other theories may be true.
Police won't share the case file with the public, hoping someone will still come forward with information to break the case.
"The more you know about this case, the more it haunts you," Miller said. "It's human nature to want to have answers, and unfortunately we don't have any answers to why someone would do this to Valerie."
Nydia Hohf fears the mystery will always gnaw at her family and all those who knew of it.
"As time went on," she said, "we felt as though we had to know the outcome of this before we died. And here I am this age now, and I'm probably not going to know."
Robert McCoppin is a Tribune reporter; Glenn Wall is a freelance reporter.

rmccoppin@tribune.com