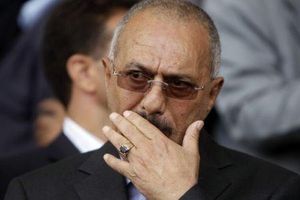 Yemeni President Ali Abdullah Saleh will not return to his country, a top Saudi official said, disputing Sana'a's claims that the veteran leader would be returning to the country within days.
"The Yemeni president will not return to Yemen," said the official, speaking on condition of anonymity, without specifying whether the decision was taken by Saleh himself, AFP reported on Friday.
The Saudi official also said that "it has not been decided where he will stay."
Saleh and five other high ranking Yemeni officials were evacuated to Saudi Arabia for treatment following a rocket attack on the Yemeni presidential palace on June 3.
Saleh, who is now in a Saudi hospital recovering from what reports said were burns to over 40% of his body, has not been seen in public since the attack.
Yemeni officials, however, maintain that Saleh is recovering quickly and will return to Yemen soon.
"The presidency has confirmed to me that the president will return within coming days," Abdu al-Janadi, Yemen's deputy information minister told Reuters on Friday without specify a particular date.
Meanwhile, Yemeni protesters took to the streets across the country, demanding the formation of a transitional council to rule the country to prevent Saleh from returning to power.
The protesters also called for the prosecution of President Saleh and his regime officials over the killing of hundreds of dissidents since anti-government rallies began in the country in late January.
According to the opposition, the transitional council would "appoint a nationalist and compatible figure to form a government of technocrats."
The opposition has also called for the dissolution of parliament and country's consultative council and the formation of a committee to draw up a new constitution and set dates for holding a referendum on the constitution and for elections.
Yemeni Vice President Abdu Rabo Mansour Hadi, who is the acting president in the absence of Saleh, has so far resisted intensive local and international pressure to heed the demands of protesters to set up an interim ruling council.