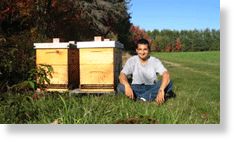 The lives of thousands of bees are in jeopardy because the lockout at Canada Post has them trapped in warehouses.
Twenty-thousand queen bees are shipped every year in Canada, with June being the busiest month.
The bees are used to populate honey-producing colonies. But since the lockout began Tuesday, thousands of queen bees have been stranded.
Honey producer Raphael Vacher of Alma, Que. ordered 100 queen bees from a breeder in the Eastern Townships before the lockout began.
Now his bees are stuck in a Canada Post sorting warehouse near Montreal.
Vacher said the bees can only survive about a week in those conditions, and said if the lockout doesn't end soon, they will die.
The queens are destined for orphan colonies made up of hundreds of worker bees. Without a queen, he said those colonies will collapse.
Vacher said the loss would cost him $20,000, and he said beekeepers across the country are facing the same problem.
Private couriers don't ship bees, so Canada Post is the only delivery option for beekeepers.
Vacher said he is trying to track his queens down, but Canada Post spokesperson Anick Losier said they don't know where they are.
"I haven't been able to find those bees," she said. " We're still looking for them. Unfortunately it's very difficult because our employees are locked out at the moment."
Anicet Desrochers in Mont-Laurier, Que. breeds and ships bees. This week, he lost 250 queens because of the lockout.
"It's so hard to do beekeeping right now," he said, adding that disease and climate change are taking a toll on the industry. "Having trouble with shipping queens, it's just like pushing a bit too much," he said.