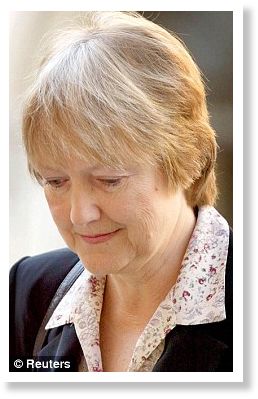 David Kelly's family have dramatically intensified the row over his death by accusing Lord Hutton of letting the Government off the hook.
Dr Kelly's widow Janice and their three daughters said the former judge had not fully examined how much the actions and failings of the Defence Ministry affected the scientist's state of mind.
Their attack came as a coroner ruled that there was no need to reconvene an inquest into Dr Kelly's death, which Lord Hutton concluded was suicide.
Jeremy Gompertz, QC, representing the family, told Oxford coroner Nicholas Gardiner yesterday that the family accepted Lord Hutton's findings "as to the mode and approximate cause of Dr Kelly's death".
But he said they were disappointed he did not "consider more fully the extent to which the state of mind in which Dr Kelly took his own life was induced by the failings of the Ministry of Defence in the exercise of the duty of care owed as his employer". Mrs Kelly, 58, may now sue the MoD for compensation.
Crucial questions left unanswered
The decision not to resume the inquest also came under fire last night, with experts warning that crucial questions about the death of the weapons inspector will be left unanswered. Dr Michael Powers, himself a coroner, said: 'I am concerned that the due process has not been followed.
"There evidently are contradictory views that were never put to the experts who gave evidence before Lord Hutton.
"In consequence the rigours that are normally undertaken at a coroner's inquest simply were not fulfilled."
The Kelly family's statement was their first detailed public response to the much-criticised Hutton report.
Hutton 'ignored evidence'
Soon after it was published, however, a family friend revealed the dismay they felt that Ministers and officials had escaped censure.
They believe Lord Hutton ignored evidence that the Government set out to expose and smear the scientist, whose body was found in woodland near his Oxford home last summer at the height of the political furore over Iraqi weapons of mass destruction.
Their late submissions to the inquiry showed they were convinced that Dr Kelly had been sacrificed by Downing Street and spin doctor Alastair Campbell in pursuit of a vendetta with the BBC.
The family's reference to the "failings" of the MoD is now likely to form a key plank in any compensation battle.
An MoD spokesman said last night: "If Mrs Kelly and her family wish to make a claim for compensation, then obviously we will address that. We will have to wait and see."
The inquest on 59-year-old Dr Kelly was adjourned last year, with the Hutton Inquiry officially taking its place.
Doubt over suicide theory
But in recent weeks a growing number of medical experts and friends of the scientist have said they do not believe he took his own life by slashing his wrist and taking a drugs overdose.
Mr Gardiner said yesterday he had received a large amount of correspondence, including letters from forensic pathologists and other medical experts.
But he said that even a full inquest would produce differences of expert opinion.
He said: "It is not exceptional for experts to disagree among themselves, in fact, it would be exceptional if they were to all agree."
The coroner said he had not been persuaded by conspiracy theorists and ruled that the Hutton conclusion, that Dr Kelly took his own life, should stand.
Mr Gardiner added: "This hearing will do little to put an end to the controversy relating to the death of Dr Kelly.
"I would express the wish that at least his widow and family be allowed to grieve in peace. I express sympathies to them and all his friends and colleagues."
During the brief, 14-minute hearing, Mr Gardiner said he had been given access to Thames Valley Police photographs, records, interview transcripts, statements and "a great deal else".
But critics pointed out that while police interviewed 500 people, took 300 witness statements and seized more than 700 documents in their investigation, fewer than 70 statements were given to Lord Hutton.
More searching inquiry needed
Another coroner, Professor Robert Forest, said last night: "An inquest would have been a more searching inquiry into how Dr Kelly came to his death than the remit of Lord Hutton. Judicial review is really designed for mass disasters, something like a massive train crash, and then it may not be appropriate, when somebody has conducted a judicial inquiry, to go on and have an inquest."
Professor Forest said he was satisfied Lord Hutton's verdict on Dr Kelly's death was accurate, but said there were still "inconsistencies and some difficulties".
Coroner Dr Powers said he was also concerned there were still holes left in the investigation.
He said: "The real issue is whether there has been sufficience of inquiry and I don't think there has been.
"The inquest is the best way of getting to the root cause of death.
"Lord Hutton did not take the opportunity fully to explore all the issues.
"Perhaps he didn't even see it as part of his remit."
'May never get answers'
Journalist Tom Mangold, a friend of Dr Kelly, said the inquest should have been re-opened to dispel a "miasma of nose-tapping mystery".
He said: "Without a full, proper traditional inquest we may never get the answers to mysteries that inevitably emerge when you get a high-profile suicide like this.
"There are people who knew David who had things to say about the circumstances of his death.
"These are not sinister or mysterious and certainly have absolutely nothing to do with a violent or murderous death and it is a shame that this will not be aired."