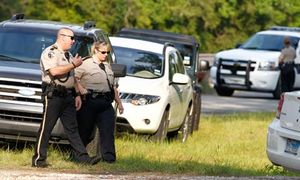 Woman faces false reporting charges after police, FBI and dog search of rural home beamed live to millions ends in red faces
Police in Texas are investigating whether a tip-off from a woman claiming to be a psychic that sparked a hunt for a mass grave of dismembered bodies, including children, was a hoax.
Officers raided a rural farmhouse in Hardin, north-east of Houston, after receiving a report that up to 30 bodies were hidden inside. But, hours later, after nothing untoward had been found, police gave up the search.
"There's no crime scene," said Liberty County judge Craig McNair as deputies, Texas Rangers and FBI agents ended their fruitless search
that was beamed live to millions on national TV.
Captain Rex Evans, spokesman for the Liberty County Sheriff's Office, said the woman, who twice called in the tip, would now be investigated for making a false report.
Evans said the tip had to be taken seriously because children's bodies were claimed to be in the property. The department called the FBI for help, and Texas Rangers spent hours obtaining a warrant to search the one-story brick home at a rural crossroads near Hardin, about 51 miles east of Houston. A cadaver dog also joined the search.
The
Houston Chronicle
and local TV reporters tracked down the home's occupant, Joe Bankson, who said he and his wife, both long-haul truck drivers, had left on Sunday en-route to Georgia and knew nothing about dead bodies. "I haven't killed anybody," Bankson told the
Chronicle
.
He told KHOU-TV his daughter's ex-boyfriend had cut his wrist when drunk two weeks before, possibly leaving blood that might have piqued investigators' interest.