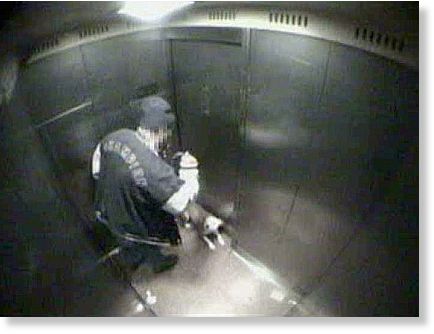 Most people have puppy love. A man
caught on tape
in an East Harlem elevator seems to have the opposite.
The New York Police Department says Irving Sanchez, 46, was arrested after allegedly being caught on an elevator's
surveillance camera
brutalizing a pit bull puppy.
The video was captured Sunday in the Wagner Houses in
East Harlem
. It shows a shocking attack.
In the video, a man police say is Sanchez is seen walking into the elevator with a small
pit bull puppy
named Max. Once inside the elevator, the man is seen dragging the dog from side to side of the elevator by its leash, hurling it into the elevator walls.
Then the man leans in and hits the dog repeatedly with the handle of the leash, wielding the strap like a club.
Finally the man starts stepping on the dog and appears to kick him.
Sanchez was arrested the next day. He is charged with aggravated cruelty to animals.
Max was taken to an animal shelter.
If guilty, what's the appropriate punishment in this case? Sound off in our comments section.