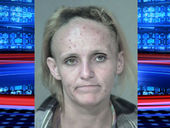 Mesa, Arizona - Police say a homeless woman entered a Dairy Queen restaurant and threatened employees with a grenade.
When 30-year-old Renee Deshaies attempted to leave the scene near Olive and Main Street, she still had the grenade in her hand.
The victims believed the grenade was real and feared for their safety.
Police say the grenade was not real and was only used for training purposes.
When Deshaies was interviewed, she believed it was real.
She was arrested less than a mile away from the scene near Hobson and 1st Street.
Deshaies faces disorderly conduct and misconduct with a simulated explosive charges.