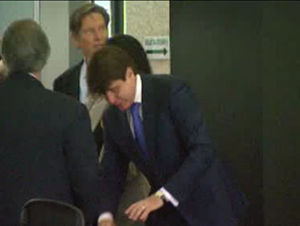 No testimony was heard and jurors were not present Friday in the retrial of former Gov. Rod Blagojevich, but there were plenty of developments from the defense team.
Blagojevich's attorneys met with the judge Friday morning to discuss their strategy and a list of potential witnesses.
Originally, the defense was told to be ready to begin on Monday, but late Friday afternoon, the Clerk of the Court announced that there would be no trial on Monday and the trial would resume on Wednesday. U.S. District Judge James Zagel already had a prior commitment for Tuesday, so the trial was already taking that day off.
Earlier in the day, prosecutors and defense attorneys met in Zagel's courtroom to discuss a number of procedural matters. Much of the time, though, Zagel and defense attorneys spoke in private about Blagojevich's defense plan and a list of potential witnesses.
Zagel told prosecutors that he didn't want the defense to have to reveal any surprises they might have in their arsenal.
After court, defense attorney Sheldon Sorosky would not reveal the names of any witnesses he planned to call, but indicated some of them include potential witnesses the defense subpoenaed for the first trial.
"In theory, we'll have witnesses to testify ... if we could get these witnesses in, because they're all prominent people and have difficult schedules and activities," Sorosky said. "All these witnesses have been subpoenaed for the first trial, so all these prominent people whose names you've heard, they have all been subpoenaed, they're all under subpoena, they all know they're under subpoena. They may not realize it because they were subpoenaed a year and a half ago and probably forgot it."
Sorosky declined to say if Blagojevich himself would take the stand, but defense attorneys have been preparing the former governor to testify and are strongly considering calling him to the stand.
He did concede that jurors "might feel cheated" if they don't hear from Blagojevich.
Before the first trial, defense attorneys subpoenaed U.S. Rep. Jesse Jackson Jr., White House adviser Valerie Jarrett, and Mayor Rahm Emanuel, who was then White House chief of staff. All three were alleged targets of Blagojevich's alleged shakedown attempts.
For the first trial, defense attorneys also subpoenaed U.S. Sen. Dick Durbin and U.S. Senate Majority Leader Harry Reid. Blagojevich has claimed he was trying to get help from Durbin and Reid to arrange a legal political deal to appoint Illinois Attorney General Lisa Madigan to the U.S. Senate in exchange for her father, Illinois House Speaker Mike Madigan, passing the governor's legislative agenda in Springfield.
But the subpoenas do not necessarily mean any of those people will be called to testify. At the last trial, Blagojevich did not present any evidence or call any witnesses in his defense.
Sorosky said his witness list consists of roughly 10 names, but no new subpoenas have been issued since the first trial.
Defense attorneys also must decide what, if any, of Blagojevich's secretly recorded conversations they will play for the jury in order to prove their case that Blagojevich did nothing wrong.
At the first trial, Blagojevich's attorneys sought to play some 38 tapes that were not played by prosecutors, but Zagel allowed them only about a dozen. Sorosky hinted that their list of tapes might be shorter for the second trial, considering the prosecution streamlined its case for the retrial, focusing on five alleged shakedown schemes and largely ignoring a number of other allegations covered at the first trial.
"We only have five topics in this case as opposed to in excess of 10 in the last case," Sorosky said. "So, therefore, obviously just as the government played fewer tapes in that regard ... we probably would have fewer tapes to present."
Sorosky noted that it's more difficult for the defense to get tapes in at trial, because they must show that the conversations prove Blagojevich's intentions or show his state of mind in regard to the allegations in the case.
The defense will also ask Zagel to drop some of the charges in the indictment against Blagojevich, as not every allegation in the indictment was discussed at trial.
"There were a number of topics in the indictment that the government never mentioned, and our hope would be that the judge would dismiss those, but that has yet to be decided by the judge," Sorosky said.
Attorneys also plan to go over proposed jury instructions next week.
The defense has said they expect their case to last three or four days, which would mean the case could go to the jury by the end of May.