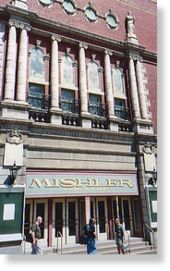 Authorities in Altoona are investigating the discovery of a hidden camera in the women's bathroom at a western Pennsylvania arts theater.
State police said Thursday that the camera was found April 9 at the Mishler Theatre, attached to a sprinkler head in the basement women's restroom. The Altoona Mirror reports that the camera was removed after a dancer saw it.
The Mishler Theater is owned by the Blair County Arts Foundation.
Joseph Stevens III, who is president of the foundation's board, says he can't comment on the surrounding the discovery of the camera.
Source: The Associated Press