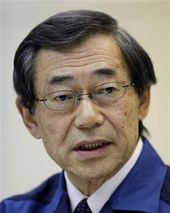 Tokyo - The president of troubled Tokyo Electric Power Co. is stepping down and taking responsibility for the handling of Japan's nuclear power plant crisis, Japanese media reported Friday.
Masataka Shimizu will be replaced by senior executive Katsutoshi Chikudate as the company prepares to report huge losses, the Yomiuri newspaper said.
TEPCO has been struggling since March 11, when the Fukushima Dai-ichi nuclear power plant was heavily damaged by an earthquake and tsunami and began leaking radiation. Some 80,000 people living within a 12-mile radius of the plant were evacuated from their homes afterward and many are living in gymnasiums.
The disaster is the world's worst nuclear crisis
since Chernobyl in 1986, analysts say.
The company may owe disaster victims in the tens of billions of dollars in compensation and has asked the government for help in paying the bill.
The company has come under harsh criticism, including from Japan's Prime Minister Naoto Kan, for its handling of the nuclear disaster.
TEPCO is likely to book about a 1 trillion yen ($12.3 billion) net loss for its fiscal year that ended in March after booking costs for scrapping Dai-ichi reactors and writing off tax assets, Tokyo media reported Friday.
That would be highest ever annual loss reported by a Japanese company, excluding financial institutions, the Nikkei business daily said.
The price of company stock fell 83 percent since the disaster.
The power firm is likely to sell assets worth about 600 billion yen (about $7.3 billion) to help cover costs associated with the hobbled nuclear plant, the Nikkei said. The assets include shares it holds in telcom KDDI Corp. as well as real estate, and other non-core businesses.
TEPCO company spokeswoman Ryoko Sakai declined to confirm Friday's report, which cited no sources.
Shimizu last month "deeply apologized" to everyone affected by the disaster.
Shimizu, 66, has been TEPCO president since 2008 after serving in other executive and managerial positions in the company, according to a company profile.
In March, Shimizu suffered dizziness and high blood pressure "through overwork" for a few days but recovered, the company said at the time.
Shimizu was also criticized for staying in Tokyo for weeks before visiting the Fukushima prefecture to survey damage April 10 and apologize for damage in his first public appearance in nearly a month.
On May 10, he announced that he and the company chairman would take no pay for the month, extending salary cuts while asking for government aid.
About 90,000 tons of radioactive water has collected in basements and trenches in and around Dai-ichi reactor buildings as the utility poured water into reactors to cool their fuel rods after the disaster disabled their cooling systems. TEPCO faces a major challenge in preventing that water from seeping into ground water and the ocean.
Japanese workers entered the last of three reactor buildings hit by nuclear fuel meltdowns at the Fukushima plant, TEPCO said on Thursday.
Last week,
TEPCO said it believed that large leaks had developed in the three reactors' pressure vessels, although it has vowed to stick to a timetable for bringing the Fukushima Dai-ichi reactors to a stable state
by January
.
Reuters and The Associated Press contributed to this report.