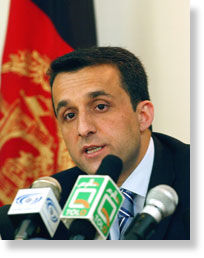 Afghanistan's former intelligence chief says he knew Osama bin Laden was hiding in Pakistan four years ago, but Pakistan's leaders rejected his claims.
In an interview broadcast Sunday on CBS'
60 Minutes
, Amrullah Saleh says Afghan intelligence thought bin Laden was in the Pakistani city of Mansehra - about 12 miles away from Abbottabad, where the terrorist leader was eventually found and killed by U.S. Navy SEALs.
Saleh has become a prominent critic of Afghan President Hamid Karzai's efforts to start peace talks with the Taliban. He says Pakistan should be recognized by the United States as "a hostile country."
He told CBS: "They take your money. They do not co-operate. They created the Taliban. They are number one in nuclear proliferation."