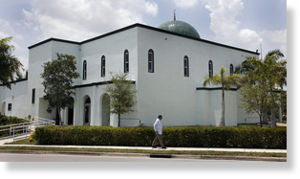 The imam of a Florida mosque and his two sons, one also a Muslim spiritual leader, were arrested on Saturday on charges of financing and supporting the Pakistani Taliban, U.S. officials said.
The three Pakistan-born U.S. citizens were among six charged in a U.S. indictment that accused them of "supporting acts of murder, kidnapping and maiming in Pakistan and elsewhere" carried out by the Pakistani Taliban, which Washington calls a terrorist organization.
The indictment, announced by U.S. Attorney for the Southern District of Florida Wifredo Ferrer and the FBI, charged the six with creating a network that transferred funds from the United States to Pakistani Taliban supporters and fighters in Pakistan, including for the purpose of buying arms.
If convicted, each faces up to 15 years in prison for each count of the indictment.
The charges were revealed at a time when U.S. relations with Pakistan are strained over the U.S. raid that killed al Qaeda leader Osama bin Laden in Pakistan.
Pakistan's parliament on Saturday condemned the raid that killed bin Laden and called for a review of relations with the United States.
The indictment detailed money transfers totaling some $50,000, but Ferrer said there was evidence more had been sent. "This was just the tip of the iceberg," he told reporters.
Two of the accused, Hafiz Muhammed Sher Ali Khan, 76, and his son, Izhar Khan, 24, were arrested in south Florida after prayer services at the mosques where they were spiritual leaders, or imams.
Another son, Irfan Khan, 37, was detained early on Saturday in a Los Angeles hotel room.
Hafiz Khan is the imam at the Miami Mosque, also known as the Flagler Mosque, in Miami. His son, Izhar Khan, is an imam at the Jamaat Al-Mu'mineen Mosque in Margate, Florida, according to the indictment.
The other three charged, Ali Rehman, Alam Zeb and Amina Khan, were living in Pakistan and are still at large. Amina Khan is the daughter of Hafiz Khan and her son, Alam Zeb, is his grandson.
Recorded Conversatons
Officials said the arrests and charges followed a three-year investigation into suspicious financial transactions and were based on recorded conversations and a trail of money moving from U.S. bank accounts to Pakistan.
John Gillies, a special agent in the FBI's Miami office, said there was no link between this case and the documents and other intelligence taken from the compound in Pakistan where Osama bin Laden was killed this month.
Prosecutors also allege that Hafiz Khan supported the Pakistani Taliban through a madrassa, or Islamic school, in Swat, Pakistan, which they said he used to house militants.
"We have evidence that the madrassa was being used at his direction to shelter members of the Pakistan Taliban and prepare children to become mujahideen," or Muslim fighters, Ferrer added.
"Despite being an imam, or spiritual leader, Hafiz Khan was by no means a man of peace," he said.
The Pakistani Taliban is classified as a "designated foreign terrorist organization" by the U.S. government, which says it is linked to al Qaeda and the Taliban in Afghanistan.
"Let me be clear that this is not an indictment against a particular community or religion. Instead, today's indictment charges six individuals for promoting terror and violence through their financial and other support of the Pakistani Taliban," Ferrer said.
Some Florida Muslim organizations said they welcomed the effort by authorities to emphasize the arrests targeted individuals and not mosques.
"I think that's very important to highlight so people don't become fearful of the places of worship or the people that go there," said Nezar Hamze, executive director of the Florida office of the Council of American-Islamic Relations.
In another ongoing case that could sour relations with Pakistan, a Pakistani-born man accused of aiding militants in the 2008 Mumbai attacks in India is set to go on trial in Chicago next week.