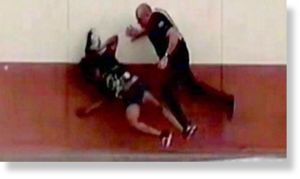 Phoenix Police are
investigating
the
arrest
of a 15-year-old girl who was seen on tape being slammed to the ground by the arresting officer.
Officer Patrick Larrison has been placed on administrative leave while police carry out both an internal and criminal investigation into the arrest.
A YouTube video captured the Jan. 25 arrest on camera, but police didn't become aware of the video until this Tuesday. Someone in the police department saw the video and reported it.
The 15-year-old and her family have not been identified. The three-minute-long video starts with the girl having a fight in public with a woman who police identified as her mother. The mother has her daughter pinned to the ground in the parking lot of Charter East, part of the Ombudsman Charter Schools in Phoenix. The girl was reportedly intoxicated and sharing alcohol at the school, ABC Affiliate KNXV reported.
The charter school works with at-risk students.
The girl, wearing denim shorts and a T-shirt, fights her mother's hold, eventually getting up. The mother keeps trying to grab the girl, nearly pulling her shirt off.
When the police arrive, the girl is walking away from her mother.
Officer Larrison can be seen on camera trying to catch up with the girl. He picks up speed. As she turns around to see him, he body-slams her, sending her to the ground.
"A charge here in what we're looking at, is there evidence of an aggravated assault or not," said Crump. "We have notified the County Attorney's Office of the video."
Officer Larrison is a six-and-a-half-year veteran of the Phoenix police force.
The girl was charged with aggravated assault for striking a school employee along with making threats to officers, police said.
The school said the girl is no longer a student there.
"The young woman in the video was a student at Charter East, and her last day of enrollment was the day the incident occurred," said Cate Lewandowski, spokeswoman for Charter East. "We are cooperating with the police department's investigation."
Arizona Police Officer Body-Slams Drunk Teen Girl
- ABC News