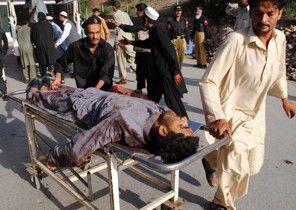 Two bombs caused the explosion on Friday, killing 70 people in northwest Pakistan, in particular the cadets of the police paramilitary unit, the Taliban allies of Al-Qaida claiming as "their first action" in Osama bin Laden's revenge.
This attack takes place 11 days after the "architect" of the September 11 attacks was killed by a U.S. Special Forces commando in northern Pakistan. Pakistani Talibans have vowed to retaliate immediately, intensifying their attacks against the Pakistani government and security forces, which Washington considers accomplice in the raid, and against U.S. interests.
Friday dawn, at Shabqadar, a city of the Charsadda district in north-west of the country, a man on a motorcycle detonated a bomb he had on him when the cadets, dressed in civilian clothes, were preparing to climb into a bus that would take them home for a furlough of ten days, explained to AFP Marwa Nisar Khan, police chief of Charsadda.
The attack was aiming a training center at Frontier Constabulary, a paramilitary police unit assigned to monitor the border.
Subsequently, a second bomb, hidden, hit the buses and minibuses waiting for the young recruits.
"70 persons are dead, including 65 in the Frontier Constabulary, and five civilians," said Marwa.
"I was expecting my coaches and colleagues," said Ahmad Ali, a cadet injured contacted by telephone at the hospital. "I was pleased that we go to to see our families and then I heard someone shouting Allah Akbar (Allah is great) followed by a strong explosion," he recalls.
"I was struck by something in the back, then I heard a second explosion, after which I jumped out the bus, I was full of blood," recalls Ahmad Ali.
It is the attack with the highest number of deaths in Pakistan this year.
"It's a first action of retaliation against Osama martyr", said by phone Ehsanullah Ehsan, a spokesman for the Taliban Movement of Pakistan (TTP), in an unknown place.
"Expect more attacks in Pakistan and Afghanistan," he threatened.
TTP, which oath to al-Qaida in 2007, is primarily responsible for a wave of over 450 attacks, mostly suicide, which resulted in 4,300 deaths in four years.