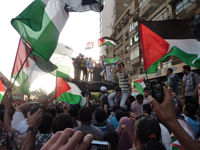 Cairo - Following the February ouster of Egypt's longstanding President Hosni Mubarak, calls have been circulating in Egypt and throughout the region for a 'Third Intifadah' to begin May 15. "Unlike the first two Palestinian uprisings, the proposed Third Intifadah is meant to involve the entire Arab world," Egyptian journalist and political analyst Abdelhalim Kandil told IPS.
It began with the appearance of a Facebook.com page in early March calling for a 'Third Intifadah' against the ongoing Israeli occupation of Palestinian land. The page, reportedly founded by Arab pro- Palestinian groups, set the launch date for May 15 - the day on which hundreds of thousands of Palestinians were driven from their homes in 1948 to make way for the nascent state of Israel.
The page attracted some 230,000 members within two weeks, prompting Israeli officials to lodge a complaint with the popular California-based social-networking website. On Mar. 29, Facebook.com removed the page - which had at that point surpassed the 500,000-member mark - claiming that its contents were found to "promote violence".
The page was almost immediately replaced with several copycat pages, however, which reiterated calls for "the liberation of Palestine from the [Mediterranean] Sea to the [Jordan] River" and "the return of Palestinian refugees to their homes in historical Palestine" in accordance with U.N. Security Council Resolution 194 of 1948.
An Arabic-language website called the
'Third Palestinian Intifadah'
appeared soon afterward, providing a general plan of action. The site calls for peaceful protests on Friday and Saturday (May 13 and 14) at Israeli embassies and consulates worldwide, including those in western capitals, "to express our rage about the ongoing occupation of Palestine and the expulsion of millions of Palestinians from their rightful homes".
On May 15, dubbed the "Sunday of Liberation", the site had initially called for multiple million-man marches to advance on "historical Palestine" - in reference to Israel - from starting points in Egypt, Jordan, Syria and Lebanon. This was later scaled down, however, to the staging of demonstrations outside Israeli embassies in Jordan and Egypt (the two Arab states that have diplomatic relations with Tel Aviv), along with simultaneous marches near Israel's borders in Syria, Lebanon and the occupied Palestinian territories.
According to Mounib Mohamed, 26-year-old activist from Cairo and administrator for the website's Egypt branch, the initial plan was scrapped "because of the difficulties associated with implementing it, and in order to avoid friction with local authorities in the countries involved".
"As for Egypt, we're calling for million-man gatherings to be held in cities countrywide on May 13," Mohamed explained. "Participants will then head to Cairo's Tahrir Square, where prominent political figures are scheduled to speak about the Palestinian cause."
"From Tahrir, we will march to the Zionist embassy, U.N. offices, and certain multinational store chains known to have Zionist sympathies," Mohamed, who is also the administrator of the Facebook.com page 'Egyptians for the Intifadah', told IPS. He went on to stress that all planned activities would be "peaceful in nature" and "carried out in coordination with Egypt's Supreme Council of the Armed Forces (SCAF)", which has run the country's affairs since Mubarak's ouster.
"Our ultimate objective is the liberation of Palestine via peaceful, political means in light of Egypt's post-Mubarak political circumstances," Mohamed added.
Several prominent revolutionary youth groups also plan to take part, including the 6 April youth movement, which played a leading role in Egypt's 25 January Revolution.
"The Palestinian situation is a source of pain for the entire Arab nation across the political spectrum," 6 April media spokesperson Injie Hamdi told IPS. "Therefore, in coordination with other like-minded youth groups, we're endorsing calls to demonstrate from May 13 to 15 in Tahrir Square and at the Israeli embassy."
In the three months since Mubarak's departure, Egypt has witnessed a spate of marches and protests in front of both Israel's embassy in Cairo and its consulate in Alexandria, where demonstrators could be seen distributing flyers about the planned event.
The 'Third Intifadah' had initially included plans for a protest march to Egypt's Rafah border crossing with the Gaza Strip, which has been sealed for the most part since 2007. This plan was abandoned, however, following a promise by Egypt's SCAF-appointed foreign minister late last month that the crossing would soon be reopened on a permanent basis.
Nevertheless, the Arab Doctors Union plans to dispatch a convoy of Gaza-bound humanitarian aid through the Rafah crossing - scheduled to set out from Tahrir Square on May 15. The closure of Rafah, in tandem with Israel's five-year-old blockade of the Gaza Strip, has effectively cut the coastal enclave off from the rest of the world - subjecting its roughly 1.8 million inhabitants to excessive poverty and privation.
Notably, Palestinian faction Hamas, which governs the strip and espouses a policy of armed resistance to Israel, has not publicly endorsed calls for a 'Third Intifadah'. Palestinian Authority President Mahmoud Abbas, meanwhile, who heads rival Palestinian faction Fatah and supports a discredited 'peace process' with Israel, has voiced downright opposition to the idea.
Last week, the two factions agreed in Cairo to form a national unity government, ending four years of bitter animosity. Just how the new Palestinian government plans to deal with Israel - whether by resistance or by negotiations - remains uncertain, however.
According to Kandil, the greatest benefit of Hamas-Fatah reconciliation is that the two factions "will now be able to coordinate the kind of peaceful revolutions seen recently in the Arab world". He expressed hope that the planned 'Third Intifadah' would apply the lessons learned from successful Arab uprisings, especially those seen in Tunisia and Egypt.
"If the Palestinians stage peaceful protests en masse and persevere despite Israel's inevitably violent response - and are supported by simultaneous demonstrations in Arab and western capitals - the Israeli occupation's days may very well be numbered," said Kandil.
The first Palestinian Intifadah lasted from 1987 until the signing of the 1993 Oslo peace accords. A second, more violent Palestinian uprising erupted in 2000 and ended with Israel's 2005 withdrawal from the Gaza Strip.