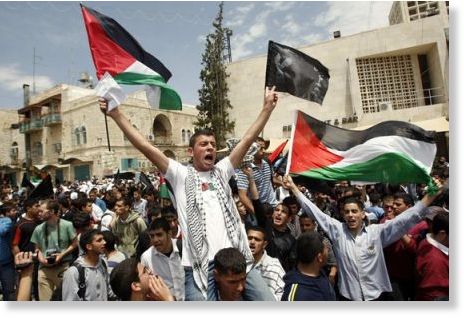 Thousands of Palestinians have marched in West Bank towns ahead of the "Nakba Day" which marks the 63rd anniversary of evicting Palestinians from their homes by Israelis.
Marchers in Beit Lahm (Bethlehem) held Palestinian flags and a giant key symbolic of their optimism to return home.
Meanwhile, in Gaza City, hundreds of children took part in a march while holding placards with the names of the villages and towns forcefully taken over by Israeli occuppiers in 1948.
Palestinians refer to May 15, 1948 as the "Nakba Day" or catastrophe. In that year, Israeli forces displaced some 700,000 Palestinians, forcing them to flee to different neighboring countries.
The soldiers wiped nearly 500 Palestinian villages and towns off the map, leaving an estimated total of 4.7 million Palestinian refugees dreaming of an eventual return to their homeland more than six decades later.
Meanwhile, organizers have urged mass street presence on Friday and Saturday and have said that "peaceful marches will be held to demand our natural right of return" to the Palestinian homeland.
However, Israel's Public Security Minister Yitzhak Aharonovitch said on Thursday that some Muslims would be denied entry to Al-Aqsa mosque compound on Friday when Palestinians begin mourning the fabrication of Israel, Ynetnews reported.
Al-Quds (Jerusalem) district police spokesman Shmulik Ben Rubi said that access would be restricted to blue Israeli identity paper-holders, men aged over 45 and women.