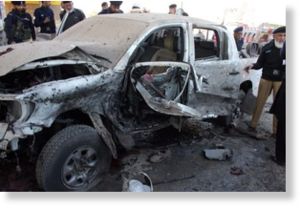 At least 70 people have been killed and 80 others injured in twin blasts at a military training center in Pakistan's northwestern city of Charsadda.
The explosions took place at about 6:10 a.m. local time Friday morning at the Frontier Constabulary training site, AFP reported.
"Seventy people have been killed," said the police chief of the northwestern Charsadda district, Nisar Khan Marwat.
"Sixty-five of them are from the paramilitary police. Five dead bodies of civilians were taken to Shabqadar hospital," the police chief added.
The death toll is still expected to rise since the injured are reported to be in critical condition and medical items at the city's hospital are in short supply.
Marwat said the attacks occurred when newly-trained cadets, wearing civilian clothes, were getting into buses to go on a 10-day leave after the end of their training course.
This is the bloodiest attack since May 2, when al-Qaeda leader Osama bin Laden was allegedly killed by US special forces in Abbottabad.
The Taliban has claimed responsibility for the assault. It had vowed earlier to avenge the death of bin Laden by attacking government buildings as well as official figures.
"This was the first revenge for Osama's martyrdom. Wait for bigger attacks in Pakistan and Afghanistan
," Pakistani Taliban spokesman Ehsanullah Ehsan told AFP by telephone from an undisclosed location."
Pakistani authorities say they will review anti-militancy cooperation with the US as the "unauthorized" attack on an alleged bin Laden compound has spawned severe criticisms from Pakistani people.
According to the AFP report, over 4,300 people have been killed in bomb attacks across Pakistan in the past four years.