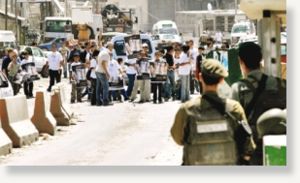 Top PA officials have evinced irony about the wide-scale preparations now undertaken by the IDF in advance of the days of protest, which will begin on Friday.
Hundreds of stickers were pasted on electricity poles in Ramallah on Wednesday, calling on residents to take part in Nakba parade demonstrations on Sunday. The stickers were written as though they were a letter sent from an exiled Palestinian refugee to the city of Haifa. "My beloved Haifa, I'll be with you soon," the stickers declared. Not surprisingly, the announcements were signed neither by Hamas nor Islamic Jihad, but rather by the PLO's refugee department. In internal Palestinian discourse, the Palestinian Authority still stands by its hard-line ideological stance demanding a right of return for 1948 refugees.
At the same time, voices in Jerusalem and Ramallah urged that passions be kept in check during the three days of Palestinian commemoration of the Nakba - the establishment of the state of Israel regarded by Palestinians as a catastrophe. Despite the media's inherent tendency to foster dramatic expectations, leaders on both sides do not believe that things will spin out of control during the days of protest declared by Palestinians. Top PA officials have evinced irony about the wide-scale preparations now undertaken by the IDF in advance of the days of protest, which will begin on Friday.
IDF preparations are not being undertaken on the basis of specific intelligence information. Instead, they are precautionary. In the unlikely event of demonstrations slipping out of control of Palestinian security forces, and turning into mass marches on Jewish settlements, or violent clashes at checkpoints, IDF soldiers will be deployed at key points along the West Bank, starting tomorrow.
Orders given to the security forces are clear: Soldiers are to do their utmost to refrain from firing live bullets and causing Palestinian casualties, which would possibly lead to an escalation of violence.
Meanwhile IDF officers are in constant contact with their counterparts in the Palestinian security forces. On Wednesday, coordination meetings were held among some IDF officers and PA counterparts. With regard to some possible flash points, security men from the two sides will try to work out in advance various tactical compromises, with the aim of allowing protestors to vent passion, without being dragged into direct confrontation with IDF soldiers.
Israel's assumption that the PA will prevent a confrontation is not based entirely on what Palestinian security men are telling IDF officers. Popular protests will serve the Palestinian cause, but a slide toward violence will harm it. As things stand, the international community views the Hamas-Fatah accord with skepticism; outside observers have taken note of recent Palestinian terror attacks against Israelis, at Itamar and Jerusalem. In the build-up toward the Palestinian diplomatic maneuver at the United Nations next September, the PA needs to demonstrate control, not lack thereof.
All these comments apply to circumstances in mid-May, but not to next September. Next fall, if broad international support for a Palestinian statehood declaration is not accompanied by any changes on the ground, things will be very different. The gap between expectations and reality is likely to lead, as outgoing Shin Bet head Yuval Diskin hinted yesterday, to bitter disappointment that could explode into violence. Under such a scenario, the PA might not know how to contain the protest; in fact, it's not at all clear that it would want to.