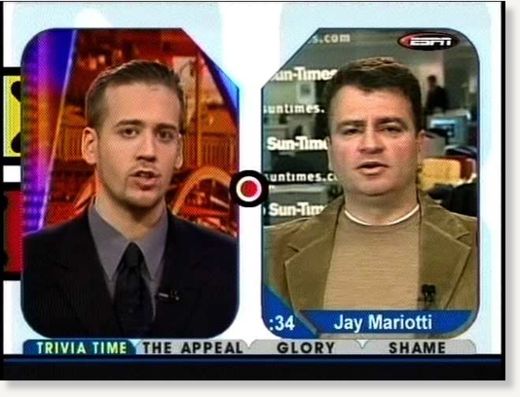 Former ESPN sports personality Jay Mariotti has been charged with three felonies - - stalking, domestic violence and assault - - after he confronted his ex-girlfriend the same day a court ordered him to stay away from her, prosecutors said.
He pleaded not guilty Wednesday to the charges: stalking, corporal injury on a spouse or domestic partner, and assault by means likely to produce great bodily injury. He was also charged with two misdemeanor counts of disobeying a court order. If convicted, he faces up to five years in state prison. His next court date is June 1 before Los Angeles County Superior Court Judge Keith Schwartz.
In addition to confronting his ex-girlfriend at a restaurant Sept. 30 -- the day he pleaded no contest to one count of misdemeanor domestic violence -- prosecutors said he argued with his former girlfriend again outside of a Venice restaurant April 15. He allegedly pulled a chunk of her hair out and grabbed her cellphone, while shouting at her, prosecutors said.
As part of a deal reached in the original case with the Los Angeles city attorney's office, six other misdemeanor counts against Mariotti were dismissed -- four domestic-violence-related counts, grand theft and false imprisonment.
In that case, Mariotti avoided jail time and was instead placed on three years' probation and required to perform 40 days of community service. He was ordered to complete a 52-week domestic violence course and stay away from the victim. He could face county jail time in connection for violating probation.
In addition to working at ESPN, Mariotti also wrote for the sports website Fanhouse.com, where he is known for criticizing athletes for their actions on and off the field. In the past, he wrote sports columns for the
Denver Post
and the
Chicago Sun-Times
. A nationally known sports personality, Mariotti has gained a reputation for his unsparing commentary about athletes on ESPN's
Around the Horn
. He has not contributed to ESPN since his arrest.
The case stemmed from his arrest in August 2010 after a running argument between the couple that started at a club in Santa Monica after Mariotti accused his girlfriend of flirting with another man.
Police said the argument continued at the couple's Venice-area apartment, where Mariotti allegedly pushed and shoved the woman. During the altercation, Mariotti grabbed her arm, leaving marks, according to police sources.
Police were called to the apartment and found his girlfriend, who has not been identified, with cuts and bruises.
Mariotti originally was arrested on suspicion of felony domestic assault. He was released from jail on $50,000 bail. The police referred the case to the Los Angeles County district attorney's office, which determined that there was not enough evidence to charge him with a felony. The case was subsequently referred to the L.A. city attorney, eventually resulting in the no-contest plea.