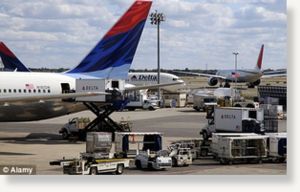 An orthodox rabbi has been convicted of groping a female Israeli army officer on a transatlantic flight to New York.
Gavriel Bidany, a 47-year-old father of 11 children, reached out under a blanket and fondled the woman twice as she slept next to him on the Delta Airlines flight to JFK.
Bidany, who is also Israeli, tried to claim he accidentally touched her in his sleep, but a Brooklyn magistrate yesterday dismissed his testimony as 'not worthy of belief'.
Judge Ramon Reyes found him guilty of molesting the 23-year-old woman after a two-day bench trial.
The incident happened on March 27, on a flight from Tel Aviv to New York. The woman, a front-line soldier who commands a missile defence unit, said she woke up to find Bidany's hand creeping under a blanket over her lap.
She told the court he then groped her genital area. When the woman 'jumped back', she said the rabbi 'quickly removed his hand from her groin.'
But minutes later Bidany tried again, the woman said, reaching under the blanket and groping her breasts.
She jumped back again and confronted Bidany, who claimed 'It's a mistake, I'm asleep'.
The woman, who has a 'substantial number of soldiers serving under her charge', reported what had happened to Delta crew flight members.
They told the FBI the woman was 'visible shaken and frantic', according to court documents seen by The Smoking Gun.
Assistant U.S. Attorney David Sarratt dismissed the rabbi's claims that any touching was 'inadvertent'.
According to the
New York Daily News
he said: 'If these were random reaches of a sleeping man why is it the defendant had such precise accuracy, reaching private areas?'
Mr Sarratt also attacked the rabbi's defence lawyer for saying the victim would have fought back with her Army skills if she had been molested.
He said: '[The victim] acted perfectly and with remarkable poise despite the defendant's repeated violations of her personal space.'
Speaking through a Hebrew interpreter Bidany, who is married, said he would never 'do such nonsense and risk my entire life'.
But Judge Reyes described the victim's testimony as 'compelling and wholly believable', and told Bidany he would be sentenced on May 12.
He is currently free on $500,000 bail, but faces up to six months in jail.