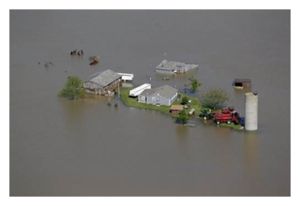 Washington - Attorneys have filed a class action complaint on behalf of farmers whose land was flooded when the
U.S. Army Corps of Engineers
exploded a levee on the Mississippi River, sending water onto 130,000 acres of prime Missouri farmland.
The complaint, filed in the
U.S. Court of Federal Claims
against the U.S. Army Corps of Engineers, contends the property rights of the farmers and landowners under the 5th Amendment to the Constitution were violated when a 15-foot high wall of water was released and flooded their property.
The act
The government exploded the Birds Point levee, May 2, in an attempt to protect the small southern Illinois town of Cairo from rising flood waters.
"In the process of breaching the levee, the U.S. Army Corps of Engineers also destroyed, or is in the process of destroying, 90 households and more than 100,000 acres of the country's richest farmland," said attorney J. Michael Ponder of
Cook, Barkett, Ponder and Wolz
in Cape Girardeau, Mo.
"This occurred despite the fact that the Corps lacked the easement over the affected property in the floodway. What these property owners and farmers are seeking is just compensation for the land and livelihood they have lost - possibly forever or for decades."
Damaged land
The complaint charges the action violated the "takings clause" of the 5th Amendment which bars the government from taking private property without due process of law.
The complaint asserts the Corps did not have easements over property in the floodway that are required before the Corps could be allowed to breach the levee at Birds Point.
As a result, property owners are due compensation for the illegal taking of their property and violation of their constitutional rights
Large tracts of land in Mississippi and New Madrid counties in Missouri were hit with water flowing at a rate of 550 feet per second, destroying everything in its wake, including acres of farmland for corn, wheat and soybeans, said co-counsel
Benjamin D. Brown
of the Washington, D.C., law firm of
Cohen, Milstein, Sellers and Toll
.
"This land may never recover from this destruction."
Selling prices
At the time the levee was breached, acreage in the affected area was selling for between $4,000 and $6,000 an acre. Corn prices were about $6.75 a bushel and the land was producing about 200 bushels an acre. Wheat was selling for between $8 and $9 a bushel and the land was producing about 75 bushels an acre. Soybeans were selling for between $12 and $14 a bushel and the land was producing about 70 to 75 bushels an acre.
The Corps of Engineers' own estimates place damage to the property at Birds Point at more than $300 million. The plaintiffs have not yet determined whether they will accept that estimate, attorneys said.
Many operations
The complaint names 14 farming operations and their owners as plaintiffs but seeks certification as a class action on behalf of all individuals and entities affected by the flooding from the levee explosion.