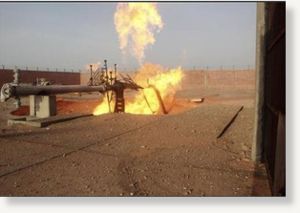 A fire that erupted on an Egyptian gas export pipeline after it was attacked by an armed gang early on Wednesday could rage for days before engineers are able to begin repairs, a security source said.
It was the second attack since early February on the pipeline, which supplies natural gas to Israel and Jordan, local cement plants and a power station.
The attackers targeted a metering station near the North Sinai town of el-Arish. The station is owned by Gasco, Egypt's gas transport company which is a subsidiary of the national gas company EGAS.
Witnesses said a huge fireball rose above the ruptured line after the blast and the flames surged up to 20 metres high, state news agency MENA reported.
"The fire is still ongoing and it'll be at least three to four days before it goes out, after which authorities can begin repairing the pipeline damage and then resume the gas flow," the source said.
Security officers were looking for five saboteurs who fled the scene before they could be identified, the source added.
"Operations to control the fire are being undertaken and no loss of human life occurred," Gasco said in a statement.
The previous pipeline attack was staged on February 5 during an 18-day-uprising that forced Egyptian President Hosni Mubarak from power on February 11.
On Saturday, Egypt's public prosecutor ordered former energy minister Sameh Fahmy and six other officials to stand trial on charges of squandering public funds related to the natural gas deal with Israel.
State-owned Israel Electric Corp said it was making preparations to keep power plants running after the pipeline attack and would do everything it can to maintain orderly electricity supplies.
Israel gets up to 45 percent of its natural gas from Egypt, and its infrastructure minister said the attack was proof the country needed to find alternatives to Egyptian gas.
Egypt's Prime Minister Essam Sharaf said this month the military-backed government would review its gas contracts with other states including Israel and Jordan, which could boost its income from the sales by $3-4 billion.