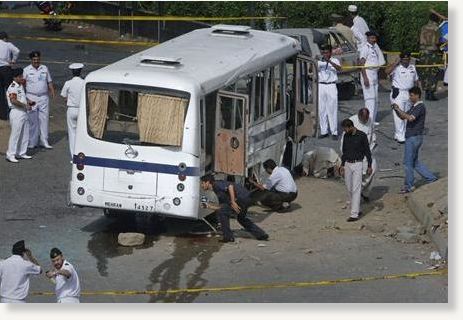 Suspected militants detonated a roadside bomb in the Pakistani city of Karachi on Thursday, killing four members of the navy, the third attack on the navy in less than a week.
A pedestrian was also killed in the blast targeted at a navy bus, while five people were wounded, navy spokesman Commander Salman Ali and a hospital official said.
The attack came two days after two bombs hit buses carrying navy personnel, killing four people and wounding 56. Taliban insurgents took responsibility for the twin attacks.
Militants linked to al Qaeda and Taliban have carried out several attacks on the Pakistani army and airforce which spearhead offensives against them in their northwestern strongholds near the Afghan border.
The insurgents have not targeted the navy in the past and security experts say the attacks on the navy, seen as a soft target with less effective protection, could be part of a new strategy to widen their violent campaign.
"It's not the navy that is being targeted, it is the armed forces," said former interior minister and retired army general Moinuddin Haider.
"And the most dangerous thing is that IEDs (improvised explosive devices) and remote bombs are now being used. This is a new thing which here first started in Iraq and has caused a lot of damage in Afghanistan," said Haider.
The attacks come days after Pakistan army chief General Ashfaq Kayani said his forces had broken the back of militants.
Senior police officer Tahir Navaid said that Thursday's attack took place on one of Karachi's busiest roads. A civilian car and motorcycle were also damaged in the explosion, he said.
Karachi is Pakistan's biggest city and commercial hub. It is also home to the main base of the Pakistani navy.
The insurgents, however, have waged a campaign of bomb and suicide attacks across the country in retaliation for military offensives against them.
In 2002, 11 French engineers and technicians working on the construction of submarines for the Pakistan navy were killed along with three Pakistanis in a suicide bombing outside a hotel in Karachi.