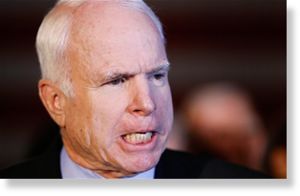 The calls came as Col Gaddafi was reported to have strengthened his grip on power by repatriating billions of dollars in overseas assets that should have been frozen by UN sanctions.
On Sunday, there was growing pressure on Coalition forces to directly target Col Gaddafi with military strikes.
Senator Lindsey Graham, a Republican member of the Senate Armed Services committee, said that the quickest way to end the emerging stalemate was to "cut the head of the snake off". He said: "The people around Gaddafi need to wake up every day wondering, 'Will this be my last?'
Senator John McCain, who visited Libya at the weekend, also said that the Libyan dictator should be targeted but argued that it was more important to increase American firepower over Libya. He said: "It's pretty obvious to me that the US has got to play a greater role on the air power side. Our Nato allies neither have the assets, nor frankly the will - there's only six countries of the 28 in Nato that are actively engaged in this situation."
William Hague, the Foreign Secretary, also on Sunday refused to rule out using remote-controlled American drones to assassinate Col Gaddafi. Mr Hague said "who and what is a legitimate target depends on their behaviour." However, he denied that there was a stalemate in Libya and ruled out proposals to partition the country.
Mr Hague said he was still hopeful about sanctions beginning to undermine the regime, despite the reports of Libya circumventing the UN-led financial crackdown.
The European Union and United States have barred access to more than $60 billion in Libyan bank accounts and funds but other nations have done little or nothing to prevent Col Gaddafi and his associates sustaining themselves.
Col Gaddafi has moved billions of dollars back to Tripoli since the rebellion began in mid-February, according to European, American and United Nations officials who spoke to the Los Angeles Times.
The full scale of sanctions-busting is unknown, partly because many investments in companies and financial institutions hide Col Gaddafi's identity.
Libya's circumvent of the sanctions has complicated Nato's efforts to end Col Gaddafi's four decades in power. His ability to siphon off cash has also hampered attempts to persuade his advisers and military commanders to flee.
Officials said the case was a cautionary one about the limits of sanctions and could be compared with Saddam Hussein's success at getting around international sanctions in the years before the 2003 invasion of Iraq.
Kenya and Turkey are among the countries with strong economic ties to Libya that have resisted carrying out the freeze, mandated by UN Security Council resolutions in February and March. A number of other African countries have also been reluctant.
China, India and Russia, three of the world's biggest economies, have resisted European and American attempts to expand the sanctions. They argue that such actions could damage their own industries.
A UN diplomat told the "Los Angeles Times" that "only a handful" of governments had reported back to the Security Council enforcement committee, which oversees the sanctions, that they had blocked access to Libyan assets.
"We've done pretty well," the diplomat said. "But when you're dealing with somebody as sophisticated as Gaddafi, with such sprawling commercial interests, this has been an uphill struggle.... It's been hard." Under UN rules, governments don't have to report their efforts to comply with sanctions until late June.
This four-month delay "is a major weak flank in the system", the diplomat said, and Gaddafi "understands the system".