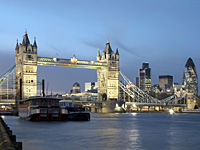 Rinat Akhmetov, Ukraine's richest man, has bought the UK's most expensive flat at the One Hyde Park residential development in London's Knightsbridge, the
FT
has learned.
Mr Akhmetov was behind the purchase of the penthouse, which sold for £136.6 million. The identities of buyers at One Hyde Park have been one of London's best-kept secrets, closely guarded by confidentiality agreements with the developers and protected by offshore ownership structures and Swiss corporate advisers.
Elena Dovzhenko, spokeswoman for Mr Akhmetov, confirmed that the oligarch's holding company, System Capital Management, had invested in
One Hyde Park
.
London has become a
playground for international businessmen
and overseas investors looking for a safe-haven economy, leading to a boom in the prices of expensive homes.
Prices have risen 30 percent since the post-credit crunch low in March 2009, according to estate agent Knight Frank. Prime London property benefited from the commodities bonanza that boosted the fortunes of investors from Russia and the former Soviet republics.
"One Hyde Park was the symbol of the property boom and there were some doubters," said Nigel Lewis, property analyst at PrimeLocation.com.
"The reality is the very top-end of the market is motoring. One Hyde Park is appealing to an exclusive set of property buyers."
The owner of the building, Project Grande (Guernsey), is a joint venture between Christian Candy and the prime minister of Qatar.
So far 33 flats have been registered at the Land Registry with a combined value of £727.4 million.
According to Project Grande, total completed sales to date - about 45, although not all have been registered - have amounted to £963.5 million. There are about 30 still to be sold, with deals worth about £125 million expected this quarter.