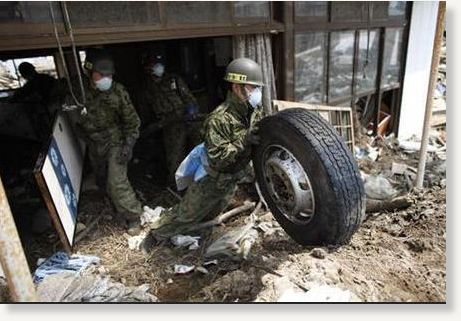 Japan's cabinet approved on Friday almost $50 billion of spending for post-earthquake rebuilding, a down payment on the country's biggest public works effort in six decades.
The emergency budget of 4 trillion yen ($48.5 billion), which is likely be followed by more reconstruction spending packages, is still dwarfed by the overall cost of damages caused by the March 11 earthquake and tsunami, estimated at $300 billion.
"With this budget, we are taking one step forward toward reconstruction ... and toward restarting the economy," Finance Minister Yoshihiko Noda told reporters after a cabinet meeting.
The magnitude 9.0 earthquake and 15 meter tsunami that followed caused Japan's gravest crisis since World War Two, killing up to 28,000 people and destroying tens of thousands of homes.
It also smashed a nuclear power plant which began leaking radiation, a situation the plant's operator says could take all year to bring under control.
Markets are keeping a close eye on how much the government will borrow to fund reconstruction. Though it kept its promise not to issue new bonds to finance this tranche of spending, additional bonds are expected to pay for rebuilding budgets to come.
Though Japan's debt is around twice the size of its $5 trillion economy, it does not face a Greece-style debt crisis since most of that debt is owed to domestic creditors rather than foreign banks.
The budget will be submitted to parliament next week and is expected to be enacted in May.
"Caused Great Trouble"
Japanese Prime Minister Naoto Kan, who has been accused by opposition politicians, his own party and quake survivors of failing to take command of the country's response to the triple disaster, has said the need to rebuild is an opportunity for national "rebirth."
Kan's approval ratings are extremely low. In a Reuters poll of investors released Friday, 83 percent of those surveyed said they disapproved or strongly disapproved of the administration's handling of the crisis.
Japan, recently overtaken by China as the world's second biggest economy, has been struggling with deflation for years.
As well as trying to rebuild the ruined northeast, Japan also has to contend with the world's worst nuclear crisis since Chernobyl in 1986, the wrecking of the Fukushima Daiichi plant, 240 km (150 miles) from Tokyo.
Radiation spilled out from the facility after a hydrogen explosion, and in their battle to cool melting fuel rods, engineers pumped radioactive water into the Pacific, a move that worried Japan's neighbors about the spread of contamination.
Masataka Shimizu, the much-criticized president of facility operator Tokyo Electric Power (TEPCO), met Fukushima's local governor Yuhei Sato Friday to apologize in person, the first time Sato has agreed to see the TEPCO chief.
Shimizu, wearing a blue work clothes, bowed deeply to Sato.
"I apologize from the bottom of my heart for the great trouble caused to many people in society."
Sato replied: "I want you to gather wisdom from all over the world and make every effort so that people can think that they can return to their hometowns."
Shimizu, whose company has been accused of downplaying the dangers and ignoring warnings about the risk of a quake and tsunami striking the plant, as well as reacting poorly to the damage, will later visit an evacuation center in Koriyama city to offer an apology to those forced to leave their homes.
Japan said this week it would ban anyone entering a 20-km (12-mile) evacuation zone around Fukushima Daiichi.
Prime Minister Kan has instructed residents in some areas outside that zone to leave in order to avoid radiation, Japan's top government spokesman Yukio Edano said Friday, but it was unclear how many people this will affect.
"We don't have the number. We will be working with local authorities in compiling this data," an official with Japan's Nuclear and Industrial Safety Agency said.