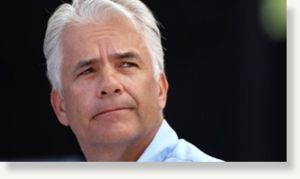 Nevada Sen. John Ensign announced Thursday he will resign amid an ethics probe, while Rep. Dean Heller (R-NV) is likely to be appointed as his successor, sources tell Fox News.
Heller and Rep. Shelley Berkley (D-NV) both recently just jumped into the Senate contest. If Nevada Gov. Brian Sandoval (R) appoints Heller, it could give him an advantage in the state's 2012 Senate election.
Heller's district is the largest and most rural in Nevada, where the tea party has strong support.
Ensign insisted he's done nothing wrong, but said he could no longer subject his family and constituents to further investigation.
He said in a statement that he will send Vice President Joe Biden a letter Friday making the resignation official.
"While I stand behind my firm belief that I have not violated any law, rule, or standard of conduct of the Senate, and I have fought to prove this publicly, I will not continue to subject my family, my constituents, or the Senate to any further rounds of investigation, depositions, drawn out proceedings, or especially public hearings," he said. "For my family and me, this continued personal cost is simply too great."
The Republican, who is under investigation by the Senate Ethics Committee, announced in March he would not pursue re-election.
The 52-year-old acknowledged in June 2009 that he had an extramarital affair with Cynthia Hampton, a former member of his campaign staff, and that he had helped her husband, Doug Hampton, a member of his congressional staff, obtain lobbying work with two Nevada companies.
Ensign's admission that he cheated on his wife seemingly foreshadowed his political downfall. Amid the scandal, his parents provided the Hamptons with $96,000 described as a gift, and Ensign helped find Doug Hampton a lobbying job.
The Justice Department and the Federal Election Commission investigated, then dropped the cases with little explanation. The Senate ethics panel, however, named a special counsel to look into the matter.
Through it all, Ensign insisted he would seek re-election until his announcement in March, when he reiterated that he had not violated any laws or ethics rules. He also said the investigation did not influence his decision to retire from politics after 2012.
"If I was concerned about that I would have resigned, because that would make the most sense because then it goes away," Ensign said at the time.
Sen. Harry Reid (D-NV), said Ensign "was a strong advocate for Nevada, and worked for many years to improve our state."
But in his resignation notice Thursday, Ensign said the appointment of the special counsel shook him because he had hoped the investigation would end with the justice department.
Democratic Congresswoman Shelley Berkley and Democratic lawyer Byron Georgiou are also in the race to replace Ensign's seat.
Republican Gov. Brian Sandoval, who has already endorsed Heller, will appoint a successor. If Heller is named, a special election will be held for his seat.
Nevada Democrats quickly began their campaign to influence Sandoval's decision.
"Nevada needs a Senator who is focused on creating jobs and protecting our middle class, not ending Medicare as we know it and giving more tax breaks to the rich, like Dean Heller is trying to do," said Nevada Democratic Party spokesman Zach Hudson.