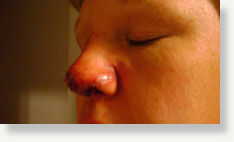 Certified assistance dogs will still be permitted under new policy
Home Depot is barring domestic animals from its Canadian outlets, following an incident last week in Ottawa when a shop greeter had the tip of her nose bitten off by a customer's dog.
Home Depot Canada issued a statement on Thursday explaining that the new no-pets policy was "the best decision for the shopping enjoyment and safety of all customers."
U.S. Home Depot locations will not be affected by the change.
Only certified assistance dogs, such as those needed to guide the visually impaired, will still be permitted inside.
Policy to be implemented May 16
In the statement, Home Depot Canada said the new policy has been communicated to all stores and will take effect starting May 16.
"In order to assist our valued customers in adjusting to this change over the next few weeks, we will work with our customers to inform them of this new policy," the statement said.
Anna Riel, a 39-year-old Home Depot employee in Gloucester, east of Ottawa, was welcoming customers to the store last Friday when she bent down to pat an elderly woman's Shih Tzu being pushed in a shopping cart.
Dog owner fined $610
The small dog lunged at Riel, biting off a small part of her nose. She was bleeding profusely and was rushed to hospital.
Riel said the dog's 74-year-old owner tried to leave the scene shortly after, but was stopped by a paramedic.
The dog owner was fined $610 and the pet must now wear a muzzle.
Despite facial-reconstruction surgery, Riel said her face will never be the same. She is considering legal action against the pet owner.