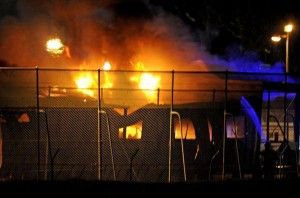 Sydney - Asylum seekers torched a number of buildings at a Sydney detention centre in a night of wild riots, with police still trying to talk down a handful of protesters from the rooftops on Thursday.
The riots kicked off late Wednesday at the Villawood Detention Centre with an estimated 100 detainees involved at the height of the drama.
At one stage firefighters were pelted with roof tiles and pieces of furniture, ABC radio reported.
Among the buildings destroyed were a computer lab, kitchen and medical facilities.
Immigration spokesman Sandi Logan said the fires had been contained but three or four people remained on the roof.
"We're certainly in the process of regaining control and as daylight comes, we're in a much better situation to assess damage," he told ABC, while condemning the "appalling" behaviour of protesters.
"At one stage many of the protesters were hurling roof tiles and pieces of furniture, and other clumps of wood at the firefighters," he said, adding that "miraculously" no injuries had been reported.
Logan said the protest started with just two inmates who took to the roof, apparently upset at the immigration department denying their applications to remain in Australia.
Australia has a policy of mandatory detention for asylum-seekers while their claims are processed, and generally holds detainees on remote Christmas Island in the Indian Ocean.
But increasing numbers of people arriving by boat has seen mainland centres also being used, including Villawood which houses about 300 people.
Last month the Christmas Island facility endured days of riots, with about 250 inmates setting fire to accommodation tents and hurling makeshift explosives at police, prompting them to respond with tear gas.
Scores of inmates also escaped the complex, although most quickly returned.
Source: Agence France-Presse