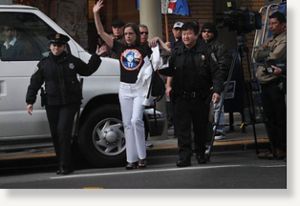 President Obama's pricey breakfast fundraiser today at the St. Regis Hotel in San Francisco was interrupted by a crowd of singing protesters who paid $76,000 for tickets to air their feelings about the treatment of Pvt. Bradley Manning, the alleged leaker of U.S. military documents posted on WikiLeaks.
Oakland activist Naomi Pitcairn told
The Chronicle
that she put up the funds for tickets for a crowd of protesters from freshjuiceparty.com, a liberal group that aimed for "performance art" at Obama's final fundraiser in the city before flying to Los Angeles, the next stop on his trip to promote his deficit plan and raise money for his re-election campaign.
A crowd of political luminaries was assembled in the dining room at the St. Regis to hear Obama, including U.S. Sen Dianne Feinstein, House Minority Leader Nancy Pelosi, former San Francisco Mayor Willie Brown, Lt. Gov. Gavin Newsom and state Attorney General Kamala Harris.
Gov. Jerry Brown, who showed up to the hotel, left before the president began speaking to the crowd of about 200 supporters, who paid anywhere $5,000 to $35,800 apiece to see him.
The Bay Area protesters included UC Santa Cruz art professor Elizabeth Stephens; songwriter Craig Casey; activist Jane Sullivan of Santa Cruz; writer Greg Archer; David Schiller of Berkeley; and organizers from Tony's Circus, a performance group.
Pitcairn said she was happy to pay for the tickets for all of them to enter so they could address the president with their concerns that Manning has been held in solitary confinement in a military brig in Virginia since his arrest in May.
The breakfast at the swank hotel began with diners assembled around tables of 10 in an upstairs dining room, with a stage flanked by California and American flags.
Obama was introduced by Pelosi and given a standing ovation from the crowd at the end of his two-day swing in the Bay Area that included an appearance at Facebook and three other fundraising events, including a large rally at the Masonic Auditorium on Nob Hill Wednesday night, where he was showered with enthusiasm by Democratic donors.
There, as at the St. Regis, Obama addressed next year's election - and reminded his base how the 2008 election galvanized millions of average Americans who became "more engaged" in the political process.
"People were saying, 'We're going to reach for a more hopeful future, and we're going to make our politics work,' " he said. But at the St. Regis, his stump speech was interrupted when Pitcairn stood up and said: "Mr. President, we wrote a song - can we sing it for you?"
When the President appeared to suggest that they wait until he was finished, the group, unheeded, launched into their number. Among the lyrics were mention of the $5,000 ticket prices and the words: "We paid our dues. Where's our change?"
The protesters at Pitcairn's table continued a capella for several minutes, until she stood up and removed her shirt, revealing a T-shirt protesting Manning's treatment.
Obama, who campaigned for ending the wars in Afghanistan and Iraq in 2008, appeared a bit perplexed at the start and then good-naturedly listened to the demonstration. Security approached the table and appeared ready to eject the protesters as the song continued.
Finally, Pitcairn stood up to leave, and asked if the President liked the song. He complimented their voices with a smile. One protester who stayed seated called out: "We loved you."
Obama politely thanked them then tried to get his stump speech back on track, saying "I could not be prouder of our track record over the past two a a half years."
Outside, Casey, one of the composers of the protest song, said the group's actions today constitute "the first initiative" in what they hope will be a series of lively "performance art" protests by liberals regarding the Obama administration.
"We are obviously concerned about the treatment of Bradley Manning but there's more to come," he said.
Funds from the $35,800 tickets to the breakfast Victory Campaign fundraiser were divided between Organizing for America and the Democratic National Committee.
The breakdown of tickets: $5,000 of the went to Organizing for America and represented the maximum legal donation to a primary and general election presidential campaign; $30,800 went to the Democratic National Committee, which would not estimate the total raised at the event.