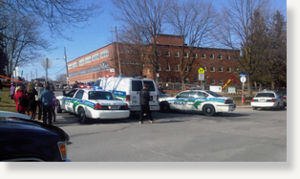 A man armed with a rifle was arrested after he entered a classroom at an elementary school in Buckingham, Que., police said.
Gatineau Police said the man, brandishing a sawed-off 22-calibre rifle, entered a classroom at École St. Laurent filled with about 25 students, but was arrested a short time later and was co-operative.
No one was injured and no shots were fired, but the school was in lockdown.
Gatineau Police spokesman Const. Pierre Lanthier told CBC News the man was about 30 to 35 years old and was not a parent of any child at the school.
Police responded to a call at 2:13 p.m. from school staff that a man was spotted inside the school with a gun, and arrived within 15 minutes, Lanthier said.
Motive unknown
"He walked inside the school, and then he got into a class," Lanthier said. "The teacher was there, and he was really calm inside the class."
Police have not yet released the man's name and said they were still trying to determine his motive.
Parents entered the school after the incident to retrieve their children.
"Right now, it seems to be pretty calm," Lanthier said. "All the parents are going inside the school to get their children right now. There's counselling for the kids, for the teacher and for everybody, but right now there's no threat anymore."
'Happy the police did their job'
It's not yet known how the man was able to enter the school with a weapon, as Lanthier said primary schools usually have their doors locked at that hour.
Parents were relieved that the situation was defused so smoothly.
"This is a peaceful part of town and we'd never expect something like this to happen to us," said Billy Ron, whose son attends the school.
"See my little boy here? I'm very happy to be able to go home with him today. I'm happy the police did their job and worked it out," he said.
The man is due to appear in court on Wednesday.