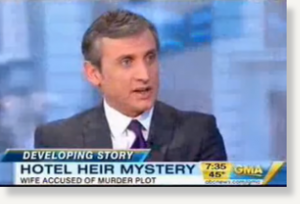 The family behind Miami Beach's Fontainebleau Hotel has experienced a horrific ordeal that seems like a plot from
CSI: Miami
.
Good Morning America
reported on the story of Narcy Novack, accused of killing her husband Ben Novack Jr. and of conspiring to kill her mother-in-law Bernice Novak, all in an effort, according to the FBI, to claim her millionaire husband's estate. Mediaite founder and ABC legal analyst Dan Abrams appeared with Cynthia McFadden to discuss the disturbing details of the case.
A relative of the victims said about Narcy, the alleged killer, "I want her to experience pain, I want her to experience everything that lock up and jail would give her." In addition to the two deaths, court papers also allege Narcy may have been so deranged that she tried to bribe a potential witness to frame her own daughter for the killing, and then tried to have the witness killed.
Abrams revealed the long volatile relationship Narcy had with her husband and how she once had him handcuffed for over 24 hours. Nothing came of the prior incident though, because Narcy had convinced authorities with "sexually compromising pictures" of her husband that they were into playing games with each other and since her husband never filed a case against her. Abrams also discussed the allegation that Narcy was in the room when a hitman killed her husband. Yet even if she just hired a hitman to kill her husband and wasn't present, Abrams explained she could be just as culpable as if she killed him herself. As new details emerge, GMA and Abrams promised to stay on the case.
Watch the clip from ABC below: