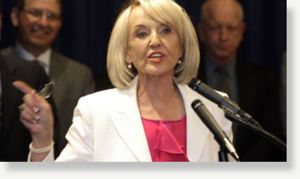 Arizona Gov. Jan Brewer vetoed a bill Monday that would have allowed guns on parts of public college campuses, a bill that she said likely faced a legal challenge.
"The bill was just poorly, sloppily written" Brewer told Fox News' Greta Van Susteren. "The legislation should have been crystal clear."
Brewer said in a written statement announcing the veto that the bill didn't adequately define the "public right of way" where guns could be carried on public university and community college campuses, and gun laws must be "crystal clear so that gun owners don't become lawbreakers by accident."
She also warned that the bill could have mistakenly included K-12 schools, "where federal and state laws generally prohibit weapons."
"While I support thoughtful expansion of where firearms should be allowed, the actual legislation that does so must be unambiguous and clear to protect the Second Amendment rights of gun owners. Senate Bill 1467 is neither," she said in the written statement.
Gun-rights advocates had backed the bill, saying it would help people defend themselves and prevent them from getting in trouble for merely driving through a campus with a gun in a vehicle.
University presidents opposed the bill. They said allowing guns on campuses would endanger employees, students and visitors, and it would be difficult for officers responding to a shooting to quickly identify a wrongdoer.
The bill originally would have applied to campus buildings, including classrooms, by allowing people with concealed weapons permits to carry guns into the facilities.
But it was scaled back during Senate consideration to apply only to rights of way, such as sidewalks. References to concealed weapons also were removed.
Supporters said they needed to change the bill to only apply to rights of way because the original, broader measure lacked enough support in the House.
The Brady Campaign to Prevent Gun Violence opposed the latest version and sought a veto, even though it said the bill was gutted by the Senate.
Texas legislation similar to the original Arizona bill is stalled in that state, with opposition preventing it from coming to a Senate vote.
Brewer must act by midnight Thursday on another Arizona guns-rights measure that would allow weapons in some government buildings that don't have airport-style security with armed guards and metal detectors.
That bill would not override a separate state law that bars guns in K-12 schools, and it would not disturb a law that gives higher education officials the authority to ban guns.
Also, the legislation would not clear the way for guns to be carried in public-owned convention centers, sports arenas, courthouses, prosecutors' offices and police facilities.
Since becoming governor in January 2009, Brewer has signed several major guns-rights bills. Those included one to allow carrying a concealed weapon without having a state-issued permit, and another to allow carrying a concealed weapon into a bar or restaurant that serves alcohol.