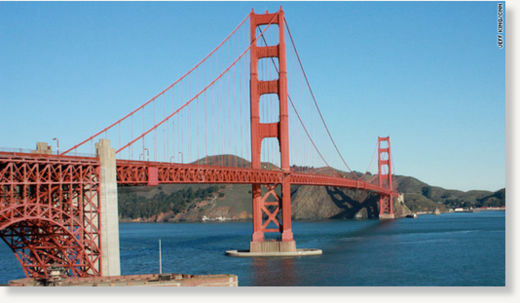 A 16-year-old girl survived a plunge from the Golden Gate Bridge over San Francisco Bay on Sunday, according to local media reports.
The girl either jumped or fell from midspan of the bridge, about a 220-foot fall to the water below,
CNN affiliate KGO reported
, citing a fire department dispatcher. The girl was conscious when pulled from the water, the Coast Guard told KGO. She was taken to Marin General Hospital.
It was the
second time in two months
a teenager plunged from the span and survived.
On March 10, a 17-year-old boy jumped from the bridge during a school field trip, telling rescuers he did it for fun, according to CNN affiliate KTVU. The boy broke his tail bone and tore a lung, according to the report.
More than 1,300 people have been killed jumping off the Golden Gate since it opened in the 1930s. Last year, there were 31 suicides from the bridge, KTVU reported.