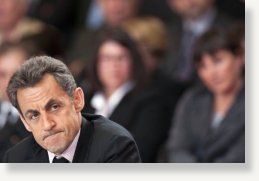 Film director Woody Allen could see French President Nicolas Sarkozy playing a role like those of Humphrey Bogart, who was famous for his cynical and hardboiled anti-heroes.
Allen has already directed Sarkozy's wife, supermodel turned singer Carla Bruni, in a cameo role in his latest movie
Midnight in Paris
, which will premiere next month at the Cannes Fim Festival in southern France.
Asked by the French weekly
Journal du Dimanche
whether he could imagine casting Sarkozy himself in a future production, Allen said he could.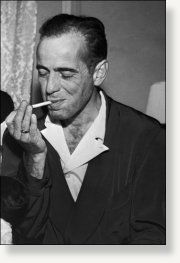 "If such an idea ever came into my head, I could no doubt find him work. I could see him in a Bogart type role," he said.
Bogart appeared in at least 75 films in the 1930s, 40s and 50s, but was best known in the roles of tough guy private eye Sam Spade in
The Maltese Falcon
and reluctant resistance hero Rick Blaine in
Casablanca
.
When the interviewer asked whether Sarkozy might not be better off emulating another US actor better known for playing psychopathic gangsters --
Goodfellas
star Joe Pesci -- Allen laughed.
"A hard nut? Yes, yes, I'm sure he could play that," he joked, according to the French paper's translation of its interview.
Allen also denied a rumour that, following her walk-on part in
Midnight in Paris
, Bruni might take a meatier role in his next movie, insisting she had no plans to become an actress and had taken the previous role for fun.
Source: Agence France-Presse