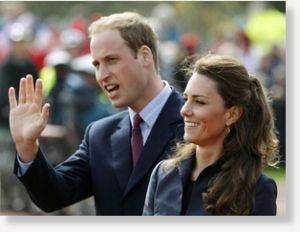 Britain's government has begun the process of reviewing the ancient, discriminatory rules of royal succession, so that if Prince William and Kate Middleton's first child is a girl she would eventually become queen.
The current rule that puts boys ahead of their sisters "would strike most people as a little old-fashioned," Deputy Prime Minister Nick Clegg said Saturday.
It is just two weeks until the prince and Middleton get married at London's Westminster Abbey, and Clegg said many people may agree that the rules should be changed so that if the couple's first child were a girl, she would eventually inherit the throne - even if she had a younger brother.
"I think most people in this day and age would think it's worth considering whether we change the rules so that baby girl could become the future monarch," he told reporters. "I think that would be in keeping with the changes that are happening with society as a whole."
The Cabinet Office said the government accepts that some aspects of the succession rule "could be discriminatory." It said the government has started discussions with British Commonwealth nations that would be directly affected by any change because they recognize the British monarch as their head of state, but declined to release details of those talks.
William is second in line to the throne after his father, Prince Charles, who is Queen Elizabeth II's first-born child. Charles' sister Anne is lower in the line of succession than her younger brothers Andrew and Edward. Charles, in turn, had only sons, William and Harry.
Elizabeth II succeeded her father, King George VI, because he had no sons. If she had had a brother, however much younger he was, he would have jumped above her in the line of succession.
Clegg stressed that although he is "sympathetic" to an overhaul of the rule, the issue is complex and any change will take a long time. Amending the succession law would require agreement and similar legal overhauls in the 15 Commonwealth countries where the British monarch is the head of state.
The thorny issue of the succession has been an on and off topic in Britain, but it has never been resolved. In 2009, then Prime Minister Gordon Brown's government considered a bill that would end the custom of putting males ahead of females in the succession line, as well as lift a ban on British monarchs marrying Roman Catholics. The government did not have time to pursue it before Brown's term ended.
The rule has excluded women from succeeding to the throne in the past. Queen Victoria's first child was a daughter - also called Victoria - but it was her younger brother who succeeded to the throne, as King Edward VII.
Buckingham Palace has always refrained from commenting on the political issue, saying it's a matter for the government.
Experts say they hope the matter will be resolved before Middleton begins producing children to avoid a confusing line of succession like that in Sweden, where a rule change led to a title being passed from a prince to his elder sister.
Crown Prince Carl Phillip, 31, was set to become king despite being a second-born child. But parliament reformed the succession rules shortly after his birth and applied it retroactively, meaning Princess Victoria, 33, took first place.
Some other European countries with monarchies, including Denmark and Norway, have also removed the rule of male preference.
But in Spain, precedence is still given to sons over daughters. Crown Prince Felipe will inherit the thrown from his father King Juan Carlos, and should Felipe and Princess Letizia have a son, their firstborn daughter Princess Leonor would be overtaken in the royal line of succession.
The current government there has raised the issue, as part of a move to achieve greater equality in Spanish society, but so far no action has been taken. That is likely because Felipe has older sisters, and his succession would be interrupted should the law be changed now.
Source: The Canadian Press