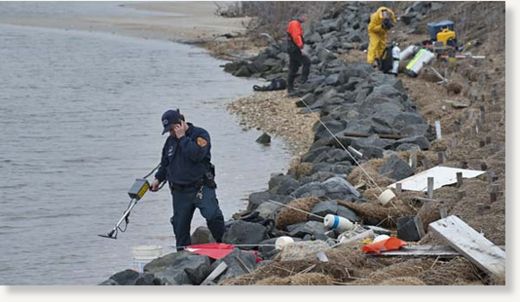 A search on a rustic barrier island for a missing prostitute has yielded a series of grisly finds pointing to a serial killer, or maybe two. Authorities are stumped, and locals are shaken.
In the summertime, the beaches along Ocean Parkway on Long Island are an American photo album of family picnics, July Fourth fireworks and minivans wedged bumper to bumper. But in the winter, this idyllic place is a windswept wilderness laced with thickets of brush that, it seems, provide the perfect dumping ground for murder.
That's the macabre scene that has unfolded since a prostitute went missing a year ago and a search party began scouring this seashore getaway for some sign of her.
What turned up instead was a string of mostly skeletal remains suggesting the work of a serial killer, or maybe two. Police are eager to find Shannan Gilbert, 24, who they suspect is somewhere in the impenetrable terrain that keeps offering up mysteries they can't explain.
So far, this barrier island off Long Island's south shore, 40 miles from New York City, has yielded a terrible crop of death, including the bodies of four other women known to have worked as prostitutes, shrouded in burlap; a bag of arms and legs; a human skull; and the body of an unidentified woman lying near that of a child about 5 years old, wrapped in a blanket.
Authorities are stumped, and the hardy, eclectic, year-round dwellers here are shaken. Yet such grisly finds have taken on a sad familiarity; strings of prostitute killings, most unsolved, exist in almost every major city and many smaller places, experts say, and Long Island has not been immune. Joel Rifkin of East Meadow was convicted of killing nine women, mostly drug-addicted prostitutes, between 1989 and 1993 and is serving a 203-year prison sentence. Robert Shulman of Hicksville was convicted of five such killings in the 1990s; he was serving a life term in prison when he died in 2006.
Last week, law enforcement officers, from the FBI to the local park police, blanketed this island in helicopters and on horseback, and dived into the chilly waters of the Atlantic. Cadaver dogs and their handlers braved poison ivy and thorny knots. Police cadets in padded blue jumpsuits marched four-abreast through the maze. Homicide detectives with binoculars hovered above in cherry pickers attached to firetrucks.
Nassau County Police Det. Lt. Kevin Smith said there was still no prime suspect: "There's been a lot of speculation, but we still don't know what we're doing. The area has never been searched this extensively because criminal activity out here was never suspected before. But it's the kind of place where you never know what will happen."
It began May 1 when Gilbert, who worked as an escort, met a client here in a gated area of Oak Beach, a community of 72 homes along Ocean Parkway. Police said she was seen banging on doors and crying out, "They're trying to kill me." By the time help arrived, she had vanished.
Months passed with no clues. Then during a routine training exercise on the island, chosen for its proximity to where Gilbert had disappeared, a police cadaver dog named Blue sniffed out the first of four women's remains. They were identified as prostitutes in their 20s with ties to Long Island who had been missing between a few months and two years.
The women turned up in an overgrown tangle of scrub and sea grass a mile or so from where Gilbert was last seen. Their placement appeared to be no accident; each was 500 feet from the next, dumped there at different times, judging from their decomposition.
With the spring thaw, the search intensified along a 15-mile stretch. The remains of at least six more people were discovered deep in the dense thicket at scattered points along the parkway.
"If you and I walked 10 feet into it, we would be torn apart by it," Smith said. "This is not an area where you would walk a dog."
Theories abounded: Was this the same madman who recently killed four prostitutes in Atlantic City? (Police say no.)
Even Rifkin had a hunch: He told
Newsday
in a prison interview that it was probably a local whose line of work would allow him to go unnoticed if he carried burlap sacks, like a fisherman.
Investigators wondered whether the killer, who appeared to be versed in law enforcement techniques, could have been one of their own.
Jack Levin, co-director of the Brudnick Center on Violence and Conflict at Northeastern University and an expert on serial and mass murder, dismissed that theory.
"I doubt this is a cop. More likely he's a police groupie or a cop wannabe. They live in uniforms, have shortwave radios in their cars; they watch
Law and Order
or
Criminal Minds
to pick up points; they may not be geniuses, but they know how to get away with it and they love the feeling of power," Levin said.
Amateur crime solvers, pondering from the decks and the docks of Long Island, say there could be any number of explanations for such a gruesome bounty. Rumrunners famously dumped black-market booze here during Prohibition. Gangsters have long appreciated its desolation. Other possibilities, Smith said, include family members disposing of a suicide or taking "an easy way out" rather than burying an elderly loved one.
This isn't the upscale Hamptons, 60 miles to the east, where the wealthy summer in beachside mansions amid designer boutiques, or even rustic Fire Island, the next barrier island over, where singles party and cars aren't allowed.
The most famous community here is Jones Beach, a state park that in June alone drew 1.5 million visitors fighting for spaces in parking lots as big as Western prairies.
The rest of the year this place is left to a small band of beach people who can stand the wind of a barrier island on a cold winter day.
When it first appeared that prostitutes were the prime victims, the locals were more curious than threatened. But their fears have intensified with each ghastly find, not to mention an army of law enforcement crawling through their bushes and blocking roads.
"Now I'm a little scared, especially if it's pitch-dark out," said Howard Rubin, 58, a weekend motorcyclist who has spent years riding the empty stretches of beach. He was warming up over a cup of coffee recently at one of the only restaurants open this time of year, recalling the night his bike got stuck in the sand near the dark woods. "I was terrified to be out there all alone. Not many cars come by. You don't know what's gonna happen."
There may be cause for nerves, said Northeastern's Levin, who suspects the culprit is a local. Serial killers sometimes start with one kind of prey and change patterns for variety. He offered as an example the Boston Strangler, who began in 1962 with elderly women, then shifted mostly to young women.
"Killers change their modus operandi," he said. "They get bored."
But sooner or later they slip, Levin said, citing Rifkin, who is linked to 17 slayings. His mistake was transporting one of the bodies in his pickup truck with no license plate on the back. The police made a routine stop.
"That was it." Levin said. "He was caught."
The four dead women and the one still missing at Oak Beach are mostly faceless victims even in the media blitz surrounding the investigation. But their families are distressed. The sister of Amber Lynn Costello, 27, who has been missing since September, was smuggled this month by a CNN reporter onto a bus provided by police for media to see the search operation. "I just wanted to get a chance to see where my sister had been," she said.
The mother of Shannan Gilbert, meanwhile, told
Newsday
that although the search had not led to her missing daughter, it had done some good: "She has helped other families find their babies."