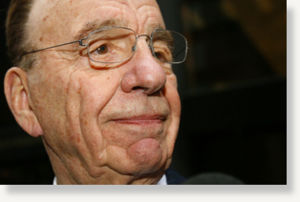 Rupert Murdoch's UK news arm faces a flood of fresh compensation claims and could be exposed to criminal prosecution after admitting its role in a long-running phone hacking scandal, lawyers say.
News International, parent company of Britain's top-selling
News of the World
tabloid, said it would admit liability and pay compensation in eight cases - although many more believe they were targeted.
The admission was an about-turn from the media group's previous denial that it knew
journalists were hacking the phones of the royal family, politicians, celebrities and sports stars
, blaming a handful of "rogue reporters" for the scandal.
Those who will receive an "unreserved apology" from the group, part of Murdoch's global media empire News Corp, include actress Sienna Miller and politician Tessa Jowell.
"There will be a massive flood of people contacting lawyers," said lawyer Charlotte Harris of law firm Mishcon de Reya.
Ms Harris, acting for five of the 24 individuals with active court cases against the
News of the World
, says some of her clients had already been contacted by News International and were considering their options.
"People [whose phones] have been intercepted, people who have had their privacy infringed, on case by case basis must be given proper compensation," she said.
News of the World
also made a public apology to the phone hacking victims. In a piece headlined Voicemail Interception: An Apology on page two of its latest edition,
News of the World
said: "Here today, we publicly and unreservedly apologise to all such individuals".
"What happened to them should not have happened. It was and remains unacceptable"
.
Analysts said the media group's move was an attempt to draw a line under the affair and limit potential financial costs as News Corp tries to push ahead with its planned $14 billion purchase of British satellite pay-TV operator BSkyB.
Settling all the cases could cost the group as much as 40 million pounds ($66 million), said media lawyer Rod Dadak, a partner of law firm Lewis Silkin which represents a number of potential phone hacking litigants.
News International has declined to comment on media reports it has set aside half that amount, 20 million pounds, for compensation payments.
"It's a black hole. So 20 million pounds may be substantially too little, it could be double that"
, Mr Dadak said, noting that the media group has already made individual settlements in the affair of up to 1 million pounds each.
'Murdoch's Watergate'
Mr Dadak said News International was now itself at risk of a corporate criminal prosecution, including for potential offences under Britain's
Regulation of Investigatory Powers Act
, which covers illegal phone interception.
"This is Murdoch's Watergate because the cat is out of the bag. Two or three people have taken the rap but the powers-that-be must have known or turned a blind eye to what was going on. It couldn't be more serious,"
Mr Dadak said.
Police have reopened an investigation into the hacking scandal and earlier this week arrested two journalists, former senior
News of the World
editor Ian Edmondson and a man identified as the paper's chief reporter Neville Thurlbeck.
Lawyer Mark Lewis of Taylor Hampton Solicitors, with four active court cases against the tabloid, said the current compensation claims were just the "
tip of the iceberg
."
"Cases are coming forward all the time. My phone hasn't stopped ringing from both journalists and from potential clients," he said.
"Anyone who has been in the
News of the World
, or knows someone who has been in the
News of the World
, ought to find out whether their phone was listened in to, because they are likely to have a claim," Mr Lewis said.
The scandal dates back to 2005/6, when the tabloid's royal reporter and a private detective were arrested and jailed for snooping on the voicemail messages of royal aides.