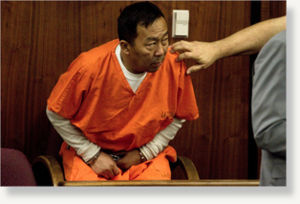 To the Chinese immigrants he recruited, Yupeng Deng was known as Supreme Commander. He offered them United States Army uniforms, conducted training exercises on Sundays, led marches in municipal parades and promised a path toward American citizenship.
The uniforms were real, but Mr. Deng's U.S. Army/Military Special Forces Reserve unit was a sham, the authorities said.
On Wednesday, Mr. Deng, 51, was arraigned in Los Angeles County Court on 13 felony charges related to the fake military operation, which concentrated on Chinese immigrants, eager to become American citizens, in the San Gabriel Valley, east of Los Angeles.
More than 100 immigrants paid upwards of $300 to join the bogus unit, the authorities said, and $120 to renew their memberships each year. In addition, recruits could increase their rank with additional cash donations to Mr. Deng, according to the Los Angeles County district attorney's office, which is prosecuting the case.
To entice recruits, Mr. Deng also set up an office decorated to look like a real military recruiting office. Once they had paid, he provided gear bought from army surplus stores and identification cards made to look like military ID's, which Mr. Deng said they could use to get out of traffic tickets, said Laura Eimiller, a public affairs specialist with the Federal Bureau of Investigation in Los Angeles.
Despite its lack of affiliation with the Army, the unit became a well-known presence in the San Gabriel Valley. The group has marched in city parades in Monterey Park for the last two years, and also took a tour of the U.S.S. Midway Museum in San Diego, dressed in military uniforms.
Daniel Deng, a lawyer who is representing Yupeng Deng but is not related to him, said the group was set up to help Chinese immigrants assimilate into American society.
"When you apply for American citizenship, you have to show you're a person of good moral character," Daniel Deng said. "The group had nothing to do with the military. It was for people who wanted to train to apply for the military."
A group called Special Forces Reserve has been registered as a nonprofit in California since 2009.
The authorities, however, said that members of the group thought their unit was affiliated with the American military. Ms. Eimiller said the F.B.I. began investigating the fake unit in 2008, after the police reported that members were producing counterfeit military ID's at traffic stops. Members also began showing up at real Army offices to pay renewal fees, instead of paying the fees directly to Mr. Deng, she said.
Joaquin Lim, a city councilman from Walnut who served in the military, said the group had seemed suspicious for years, with unkempt, ill-fitting uniforms.
"There were typos and misspellings on the ID card, so I knew there was something wrong," Mr. Lim said.
When investigators searched Mr. Deng's residence, they also found evidence of child pornography on his home computer. He will be arraigned in that case next week. If Mr. Deng is convicted on all the charges, he could face more than 11 years in prison.