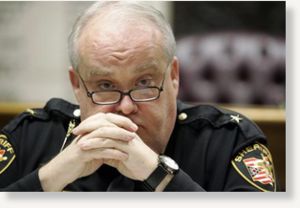 A man who recently told a relative he was having marital problems called 911 and informed a dispatcher that he had fatally shot his wife and three young children and was getting ready to kill himself, too, authorities and his grandmother said Saturday.
The 911 call came in just after midnight, the Ottawa County Sheriff's Department said, and deputies arrived within minutes at the white-sided, two-story farmhouse in Oak Harbor, about 25 miles southeast of Toledo. They didn't enter the home until two hours later, after they'd tried to contact the people inside by phone and through a loudspeaker.
In an upstairs bedroom, they found Alan Atwater, 31; his wife, Dawn, 30; and their three children - 4-year-old Ashley, 2-year-old Isaac and 1-year-old Brady. The parents and two older children were on the floor, while the youngest was in a bed. All had gunshot wounds, authorities said.
"There has been a terrible accident at my house. My wife and three children are dead," Alan Atwater said in the 911 call, according to the sheriff's office. He told the dispatcher he had shot them.
His grandmother, Joan Atwater, who lives next door, said she was up late, heard a report about a 911 call on a police scanner and recognized the address. She said she tried repeatedly to call the family and then went to the home in hopes they were alive.
"They were all gone," she said. Atwater also had a 12-year-old daughter from a previous relationship, but she was not home at the time, the grandmother said.
Alan Atwater recently told a relative the couple was having marital problems, she said.
The farmhouse, with a wooden swing set in the yard and two small utility barns, sits next to a field in an area where members of the close-knit Atwater family have lived and farmed for three generations. It's not far from the Davis-Besse nuclear plant, where Alan Atwater worked, his grandmother said.
She described him as a smiling, "happy-go-lucky kid" who helped her with computer problems and kept any troubles to himself.
"We'll never know what really brought this on," she said, clutching photos of her great-grandchildren. She said her grandson and his children had been with her husband Friday night.
The sheriff's department said Alan Atwater had no criminal record, and the office wasn't aware of any disputes between Atwater and his wife, a stay-at-home mother.
Authorities said there was no indication anyone else was involved or that the killings were planned, and they were not sure Saturday whether Atwater left any type of note.
Sheriff's Capt. Olen Martin said the deaths are a tragedy that has shocked and saddened the community.