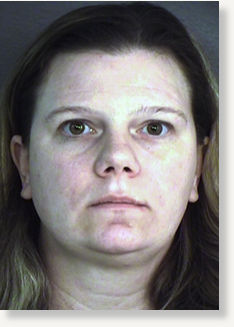 A northern Colorado woman who was playing a game on Facebook while her 13-month-old child drowned in a full bathtub was sentenced Friday to 10 years in prison.
Shannon Johnson, 34, of Fort Lupton, cried as District Judge Thomas Quammen told her he didn't think she was a bad person or that she killed her son on purpose, the
Greeley Tribune
reported.
But, he added, that doesn't mean her action wasn't criminal.
"You left this little boy in a bathtub so you could entertain yourself on the computer by playing games," Quammen said. "And you left that 13-month-old human being, little Joseph, incredibly for those reasons."
Johnson pleaded guilty in March to negligently causing the death of her child. The charge carried a sentencing range of four to 12 years, but it also left open the possibility she could receive community service or probation. Authorities rejected both of those options, saying they didn't want to play down the seriousness of her crime.
According to court documents, Johnson put her son in the tub for his bath a little after 8:30 a.m. on Sept. 20. She then left him unsupervised in a bathtub full of water as she went to another room to share videos, check status updates and play Café World on Facebook. Johnson told deputies that Joseph had grown independent and wanted to be left alone in the tub.
When she returned to the bathroom, said she found Joseph sideways and face-down in the tub.
Johnson called 911 to say Joseph wasn't breathing. Paramedics were able to revive the toddler but he was pronounced dead at a Denver hospital.
She was also sentenced to five years of mandatory parole following her incarceration.
'Independent baby,' mother said
According to the affidavit, Johnson told police the boy "wanted to be left alone" and was a very "independent baby."
She also told police she knew what it was like to be told "no," and she did not want her baby to be told "no."
The affidavit says she also did not want him to be known as a "mama's boy."
Johnson told police she gave the boy a bath every day - sometimes twice a day. She said that on the day Joseph died, the water level might have been higher than usual.
Johnson told police she had been leaving Joseph in the bathtub alone for weeks.
She also told authorities that her son had a seizure at his grandmother's house a month earlier and had been given anti-seizure medication in case it happened again. Doctors didn't diagnose the cause of the seizure and there were no other occurrences, Johnson said.
The investigation into the boy's death was delayed while investigators waited for the final autopsy report. That report came back Jan. 3. It said the baby died of anoxic brain injury, cardiac arrest and drowning, according to the arrest affidavit. Johnson was arrested days later.
She was also sentenced to five years of mandatory parole following her incarceration.
Weld County undersheriff Margie Martinez told KMGH-TV in Denver that Johnson's mother said she had warned her daughter of the danger of leaving the toddler unattended in water just days before he drowned.
"She told her she wouldn't do it anymore," Martinez said.
Source: The Associated Press and The Canadian Press