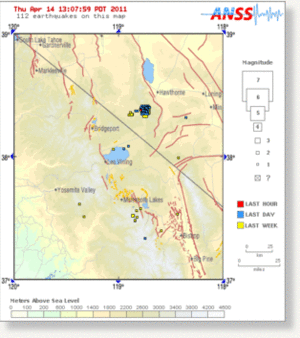 A swarm of earthquakes continued along the California-Nevada border, according to the U.S. Geological Survey.
It began Sunday and continued into Thursday, with scores of small temblors reported.
On Wednesday, the region around Hawthorne, Nev., recorded a 4.4 and 4.1 quake as well as many smaller temblors. There have also been smaller quakes on the California side of the border, along the Eastern Sierras in Inyo and Mono counties.
There have been no reports of damage or injuries.