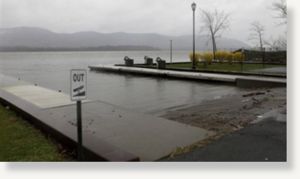 Police are investigating what led a New York mother of four to drive herself and her children into the cold and murky Hudson River, killing herself and three of her kids.
The woman's 10-year-old son managed to escape the submerged minivan and swim to shore after his mother drove into the river at around 8 p.m. Tuesday, officials said.
Authorities said during a press conference Wednesday that 25-year-old Lashanda Armstrong, of Newburgh, N.Y., had just been involved in a domestic dispute before she loaded her children into the vehicle and drove them into the river.
"We are talking about a tragedy in this city that I would say is probably second to none," Newburgh Mayor Nicholas Valentine said. "The whole scene surrounding what occurred in Newburgh last night will have a lasting effect on this city."
Officials said 10-year-old Lashaun Armstrong managed to open the minivan's power window, climb out and swim to shore. The boy was picked up by a passerby, authorities said, and was able to alert firefighters at a nearby fire station.
Divers searched for the minivan for about an hour before finding it submerged in 8 feet of 45-degree water about 25 yards offshore, Newburgh Fire Chief Michael Vatter said. Inside the vehicle with Armstrong were Landon Pierre, 5, Lance Pierre, 2, and 11-month-old Lainaina Pierre. Everyone inside was dead, Vatter said.
Armstrong lived about six blocks from where she and her children perished. Police said the domestic altercation occurred about 10 minutes before she drove into the river. A relative called police to report a domestic incident at Armstrong's apartment. By the time police got there, she and her children were gone. Authorities said there was no history of domestic violence at the address.
Armstrong's husband and the father of the three dead children, Jean Pierre, was questioned. Police would not give details of the interview or say if the father had been charged with anything.
Officials also said Wednesday they had no comment on whether Armstrong suffered from mental illness.
Armstrong lived in an apartment in a gritty part of this humble river city. Several neighbors on Wednesday recalled her as an attentive mother who balanced care of her children with an outside job. They were shocked by the news.
"She was a very good mom," said Tina Claybourne, who lives nearby. "She took care of her kids. She always was with her kids."
Neighbors said they did not know the woman's name or where she worked. They said the children seemed energetic and happy and would play on the block and ride bikes.
"You know kids, they make noise, they play around," said Shantay Means, a downstairs neighbor.
The boat ramp was unguarded by gate or chain. There was no sign that anything tragic had happened save for a single teddy bear left at the end of a dock that runs alongside the boat ramp.
Newburgh, which has about 30,000 residents, sits on the western shore of the part of the river that runs south through New York state and eventually splits New York and New Jersey.
A similar incident occurred in 2006, about 20 miles (30 kilometers) south of Newburgh.
In 2007, Victor Han, of Queens, was sentenced to three years of probation after pleading guilty to child endangerment. Han admitted he knew he was putting his daughters at risk when he stepped out of the family minivan on
Bear Mountain in June 2006, leaving them with their mother, 35-year-old Hejin Han. She then drove the Honda Odyssey off a 300-foot drop, killing herself. The mother was killed but the children somehow survived the plunge.
It's also reminiscent of the case of a South Carolina woman who drowned her young sons in 1994.
Susan Smith is serving a life sentence for killing 3-year-old Michael and 14-month-old Alex by strapping them into their car seats and driving the car into a pond. Smith originally claimed she was carjacked before the truth came out.
The Associated Press contributed to this report