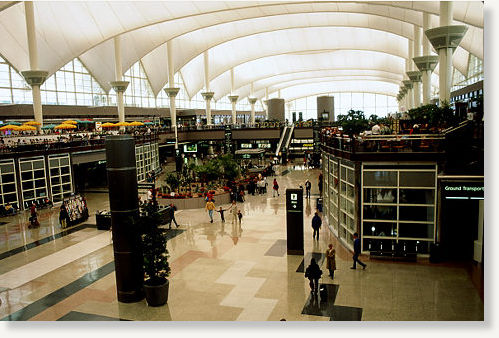 A missed flight turned into a nightmare for one woman who says she was attacked and raped in a deserted concourse at the Denver National Airport while two janitors passed by and did nothing.
Police arrested former Marine Noel Alexander Bertrand 26, of Portland, Ore. early Tuesday on suspicion of sexual assault, authorities said.
The 22-year-old woman said she was flying from Oregon to Illinois on Monday to interview at a convent. After missing the connecting flight, she decided to spend the night at the airport.
The woman, whose name has not been released, said she met the man at an airport bistro and that he followed her after the restaurant closed at midnight.
Bertrand asked if he could kiss her and she refused. He then knocked her to the ground in the deserted concourse, pulled down her pants and assaulted her for about 10 minutes, the woman said.
"He grabbed the back of my hair with his hand that he was holding my neck down with and pulled my head up and began to slam my head into the floor," she told FOX 31 in Denver. "He repeatedly was assaulting me from behind as my pants were down."
She said two janitors walked by and took no action.
"I was appalled that I was going through something so brutal and they kept walking," she said.
Jenny Schiavone, an airport spokeswoman, told the Denver Post that a security guard called 911 and detained Bertrand until cops arrived.
Another spokeswoman, Laura Coale, told KMGH that the airport was investigating if airport employees failed to report the attack.
Bertrand is being held on a $10,000 bail.