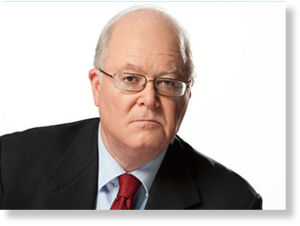 The anti-gay Catholic League for Religious and Civil Rights is going on the attack against "those who are distorting the truth about priestly sexual abuse."
The group bought an expensive full-page ad in
The New York Times
Monday that places the blames for the church's scandals on "homosexuality, not pedophilia."
And perhaps most shockingly, it also claimed that some children were active participants in the abuse.
"The refrain that child rape is a reality in the Church is twice wrong: let's get it straight -- they weren't children and they weren't raped," self-appointed Catholic League president Bill Donohue
wrote in the ad
.
"We know from the John Jay study that most of the victims have been adolescents, and that the most common abuse has been inappropriate touching (inexcusable though this is, it is not rape)," he added, referencing a 2004 study by the John Jay College of Criminal Justice, which was funded by the U.S. Conference of Catholic Bishops.
"The
Boston Globe
correctly said of the John Jay report that 'more than three-quarters of the victims were post pubescent, meaning the abuse did not meet the clinical definition of pedophilia.' In other words, the issue is homosexuality, not pedophilia," Donohue wrote.
"What accounts for the relentless attacks on the Church?" he asked in conclusion. "Let's face it: if its teachings were pro-abortion, pro-gay marriage and pro-women clergy, the dogs would have been called off years ago."
Marianne Duddy-Burke, executive director of DignityUSA, a pro-gay Catholic group, told
The Advocate
that there were "so many problems with what Mr. Donohue is saying."
She pointed out that Survivors Network of Those Abused by Priests (
SNAP
) figures showed that half of those abused are female.
"He avoids what is in many ways the larger sin -- the cover-up and enabling of abuse," she added.
Phil Attey, executive director of Catholics for Equality, told
The Advocate
that "all of the arguments we see in this ad are scapegoating attempts."
"We're disappointed that Bill Donahue refuses to look at the long-term well-being of the Catholic Church by joining the overwhelming majority of American Catholics who see the only path toward fixing the problem to be the establishment of permanent structures for the laity to be involved in the running of the church."
Allegations of sexual abuse involving the Roman Catholic clergy in the United States rose sharply last year to nearly 700 from around 400 in 2009,
according to a church report
Monday.
The vast majority of the allegations, 653, involved alleged abuse that occurred decades ago but whose "victims/survivors are just now finding the courage to report" them, the study said.
-- With AFP