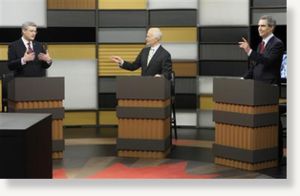 Canada's three opposition leaders accused Prime Minister Stephen Harper of incompetence and deceit during an election debate on Tuesday as they sought to cut into the ruling Conservative Party's big poll lead.
Public opinion surveys strongly suggest the right-of-center Conservatives, who have been in power since early 2006, will win a third consecutive term in the May 2 election -- the fourth in less than seven years.
The opposition brought down the minority government in late March, saying it had hidden its spending plans from Parliament, was tainted with sleaze and had botched the job of helping the economy recover from the global crisis.
Harper, who was on the defensive for most of the debate but did not appear to suffer serious damage, said the opposition had provoked what he called an unnecessary election at a time when Canadians should be focusing on the economy.
The televised two-hour English-language exchange had been seen a crucial chance for Michael Ignatieff, leader of the main opposition Liberal Party, to improve his image. The Conservatives have run a series of attack ads portraying the former broadcaster and academic as an elitist.
"Canadians don't have confidence in your management of the economy because you waste public money," Ignatieff told Harper during one testy exchange, referring to a leaked report from a watchdog that said the government misspent some of the funds earmarked for an international summit last year.
"That kind of deception undermines confidence in your leadership," said Ignatieff.
The Conservatives won minorities in both 2006 and 2008, which required them to cooperate with opposition parties to pass key pieces of legislation such as budgets.
Harper said he wanted a majority of seats in the House of Commons "because otherwise if you look at the debate we're having today, you can see we will be into a fifth election in no time at all."
He added: "I'm worried that quite frankly in this country at some point we're going to lose our focus on the economy (and) start raising taxes."
Liberals Struggling
Harper says if he does not get a majority, the opposition parties will immediately unite to form a coalition to take power. Ignatieff dismisses the charge as nonsense.
The Conservatives have support levels around 40 percent in recent opinion polls, compared with about 30 percent for the Liberals. Under Canada's voting system, that might be enough to guarantee a Conservative majority government.
The Liberals -- who have governed Canada for longer than any other party -- are struggling, partly because they are competing with the smaller New Democrats for the center-left segment of the electorate.
New Democratic leader Jack Layton said Harper had changed from the man who took power promising to boost accountability.
"You said you'd clean up Ottawa from scandals and now we've got the most closed, secretive government we've pretty well ever had, with scandals," Layton told Harper.
In addition to the controversy over the G8 summit funds, Harper's government has been criticized for being overly aggressive in both policy-making and campaigning.
Last month, police were asked to probe allegations of misconduct by a former top Harper aide. And in February, four Conservative officials were charged with violating financing rules during the 2006 election campaign.
Canada's third opposition party is the separatist Bloc Quebecois, which wants independence for the French-speaking province of Quebec. It only runs candidates in Quebec.
The two-hour debate was particularly important, since English is Canada's most widely spoken language. A debate in French -- Canada's other official language -- will take place on Wednesday.