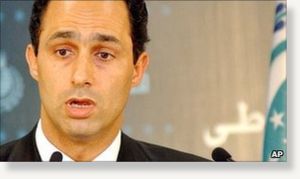 The sons of former Egyptian leader Hosni Mubarak have been detained amid investigations into corruption and state violence, police and media say.
The two sons, Alaa and Gamal, who had earlier been taken for questioning, are to be held for 15 days.
Gamal, the younger son, was once widely seen as a possible successor to his father as president.
Hosni Mubarak has also been questioned, but he was taken to hospital after reportedly suffering heart problems.
The former leader, 82, stood down on 11 February following an 18-day popular uprising against his rule.
State television said on Tuesday that he had suffered a heart attack, though other reports indicated that he was well enough to undergo further questioning.
Police van pelted
Maj Gen Mohammed el-Khatib, head of provincial security in South Sinai, announced to a crowd gathered outside the courthouse where his sons were being questioned that they would be detained.
"Brothers, whatever you wanted, you have got... 15 days," he was quoted as saying by the Associated Press news agency.
As a police van drove the two brothers away, the crowd of about 2,000 pelted it with stones, bottles and flip-flops, AP reported.
The sons' detention was also reported on state TV.
Prosecutors are investigating the killing of hundreds of protesters and allegations of corruption under Mr Mubarak's 30-year rule.
Mr Mubarak has been banned from leaving the country, along with his sons and their wives, and the family's assets have been frozen.
He has been keeping a low profile in Sharm el-Sheikh, a Red Sea resort, after fleeing to his holiday villa there when he was overthrown.
In a pre-recorded audio message on Sunday, he broke his silence of the last two months to say his reputation and that of his sons had been damaged and he would work to clear their names.
On Tuesday, Egyptian soldiers and police moved into Tahrir Square in Cairo and ended a sit-in by protesters demanding civilian rule and swifter prosecution of former officials.
A military council has been ruling Egypt since Mr Mubarak stepped down.