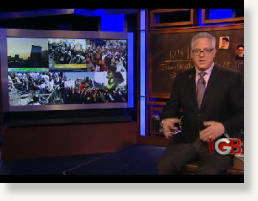 Glenn Beck will no longer have a daily program on Fox News.
According to a joint release from Fox News and Beck's production company, Mercury Radio Arts, Beck "intends to transition" off the program at some point this year.
The release said the afternoon host will not be leaving the network entirely. It said that Fox and Beck's production company plan to "produce a variety of television projects" that will air both on Fox News Channel and other platforms, including Fox News' digital properties.
"Glenn Beck is a powerful communicator, a creative entrepreneur and a true success by anybody's standards," said Fox News chairman and CEO Roger Ailes. "I look forward to continuing to work with him."
Beck said in the release that "America owes a lot to Roger Ailes and Fox News."
"I cannot repay Roger for the lessons I've learned and will continue to learn from him and I look forward to starting this new phase of our partnership," he said.
Beck has lost more than a third of his audience since his "Restoring Honor" rally last summer,
prompting speculation that he would lose his 5 p.m. slot.
(His ratings fell to an average of less than two million viewers, dropping
39 percent
between last January and this January.) He has also had a hard time hanging onto advertisers, with more than 300 reportedly refusing to advertise on the show.
Beck's contract with Fox runs out this year. Even with its recent ratings drop, his program has been a major ratings success for the network.
"For the 27 months that
Glenn Beck
has aired on Fox News, the program has averaged more than 2.2 million total viewers and 563,000 viewers 25-54 years old, numbers normally associated with shows airing in primetime, not at 5pm," Wednesday's release said. "
Glenn Beck
has dominated all of its cable news competitors since launch."
David Brock of the liberal media watchdog group Media Matters said in response to the news that in light of the ratings drop and skittishness of advertisers, "the only surprise is that it took Fox News months to reach this decision."
In conjunction with Beck ending his daily show, Fox News executive and Beck ally Joel Cheatwood will be joining Beck's production company, where he will serve as a liaison with the network.
Beck had
reportedly been considering starting his own cable network
, similar to Oprah Winfrey's OWN, or taking over an existing network. He currently hosts a syndicated radio show in addition to his Fox News show.
Below, Katie Couric's 2009 interview with Beck: